Our Mission Statement
"Provide open, honest and transparent payment solutions with a strategic
approach to help our clients reduce their costs and get paid faster."
When we founded Leap Payments, we didn't want to just compete, we made it our mission to reduce our client's fees, provide faster processing, all coupled with truly personal customer service. Day by day, year by year, we've distinguished our company through our dedication to providing the best credit card merchant service in the industry. How should you choose among credit card processing companies? It's about commitment to building and maintaining relationships with our customers and drawing on our professional expertise and years of industry experience to find the right solutions for your merchant banking needs. We take pride in supporting your success.
Check Out Just A Few of The Companies That Trust & Use Leap Payments


Our Service Commitment to our Clients
We'll never ask you for your account number, because we'll know you by name. At Leap Payments, we believe that even our state-of-the-art technology comes second to our personable customer service. As our clients know, we're passionate about providing you with superior credit card processing merchant services.
We believe in processing payments and helping people. When you work with Leap Payments you'll have the support of a single client relationship manager for the lifetime of your account. After all, people build relationships with people, not companies. Unlike some other credit card processing companies, which seem to view clients as mere data and dollar signs, we treat you with respect and partner with you to build success as members of our shared business community.
We Also Offer High Risk Merchant Accounts
Merchant services for businesses deemed "too risky" to offer services to. We approve industries that get declined and closed by other providers. With over 15 partnering banks, we have made it our goal to become experts in your industry and find suitable and sustainable sources for your business to process. To learn more about our high risk credit card processing, review our in-depth page here: high risk merchant accounts, or give us a call at (800) 993-6300.
The Leap Payments Difference
No-startup fees for any business,. Some merchant service providers will withhold special pricing or offers for merchants that they "see fit". Not at Leap Payments, we do not cater to merchants only processing $25k or more. Get the best rates, pricing and customer service. Zero start-up fees, ever, regardless of business size.

Better Monthly Statements

Clear, detailed statements so you know what you're paying for. View online or optional paper statements provided at no extra charge. A single unified statement for Visa, MasterCard, Discover, American Express, electronic checks, and gift cards. You'll never have to pay anyone to mail you a statement.

An concierge, add-on service that gets your hard earned money into your bank account quicker. Depending on your business' needs, you can receive your business funds, deposited into your bank account, in as little as 5 hrs from batch time. That certainly beats the standard funding delay of 2-3 business days.

We gladly post our fair pricing to purchase credit card machines, and with prices starting at only $39.99, there is never a reason to sign an equipment lease. You can also use our online solutions for less with no equipment to buy. We can integrate into your own, pre-existing equipment!

We're committed to helping our clients pay the lowest possible rates and proud to earn your business today, next month, and even next year. We actively review your processing rates and fees to continuously help you find ways to reduce your costs. Partner with the best in merchant services.
*Next day, same day and instant funding are not guaranteed for all merchant accounts. Available only for qualifying merchants. To see if you qualify, call (800) 993-6300 now and speak to an account specialist.
No one else offers this combination of services.
Take a leap forward with Leap Payments.
Corporate Headquarters
2100 Double Creek Drive, Suite 430
Round Rock, TX 78664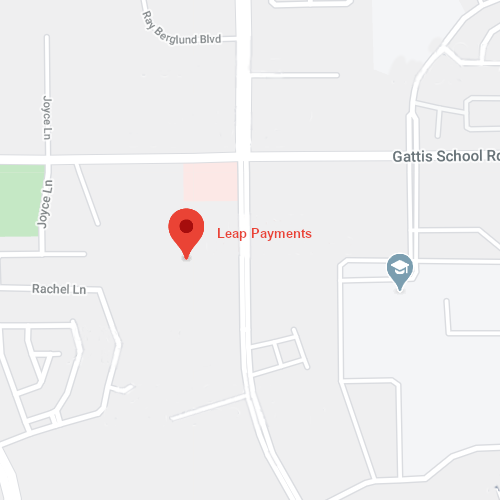 Sales & Support Office
5115 Clareton Drive, Suite 150
Agoura Hills, CA 91301