Glassware
Merchant Accounts
At Leap Payments our goal is to make sure that your business can process credit cards. We can support industries considered by some to be high risk with domestic and even off shore solutions, so your business can accept credit cards.
Glassware Merchant Accounts
The market for glassware smoking devices, hookahs, glass bongs, pipes and similar paraphernalia items is growing quickly. This growth is due in part to the rising acceptance of marijuana use and the rapid growth of its medical applications and legalization in various locations across the United States and Canada. It is also due to the fact that many people in the United States are starting to adopt smoking traditions and habits from eastern cultures.
The rise in popularity of smoking hookahs and cannabis related items is bringing new enthusiasm to the glassware industry, and many retail and online headshops are making the most of this trend.
Unfortunately, banking institutions are a bit slow to keep up. Being conservative in nature, credit card processing service providers are reluctant to extend their services to these types of businesses. They see glassware businesses as being especially risky. On one hand, they do have a point. Any business dealing in paraphernalia, even remotely associated with marijuana use, runs the risk of falling prey to changing laws and can be suspected of crossing legal lines, even if they are not. Add to this the stigma that is placed on the type of customers that buy these products and the picture become scarier to banks.
Leap Payments understands this. We work with "high risk" merchants of all kinds and specialize in providing precisely the kinds of merchant services that the other credit processing companies are reluctant to.
Boost Business with a Glassware Merchant Account
The need and desire for marijuana and related glassware products (Like bongs, pipes, bubblers, etc.) have shot through the roof with all the recent changes in laws and regulations in many states. The glassware and bong business is currently booming as tons of individuals are trying to get started in the industry. Having the ability to accept credit and debit card transactions is a great way to provide a convenient service to your clientele. This will cut back on the amount of customers you have to turn away which ultimately loses you the sale. Leap Payments gives you all the tools for success to increase revenue and boost your businesses growth with an industry leading glassware merchant account.
Getting Approved in a High-Risk Marijuana Related Industry
Banks, lenders and financial institutions have labeled marijuana and marijuana paraphernalia companies as high risk for a variety of reasons. These financial institutions typically have no clue how the glassware industry works. This lack of knowledge leads to uncertainty and results in high chance of denied applications for credit card processing solutions. Additionally, there is a higher risk of chargeback claims because of how products are normally bought and paid for. With federal and state laws/regulations constantly changing, there is a great deal of both potential gain and added complications for the future of the industry. Don't get left behind or wait for this pivotal moment to pass you by. Leap Payments offers custom glassware and bong merchant accounts that are tailored towards the industry and promotes convenience for your customers and growth potential for your business.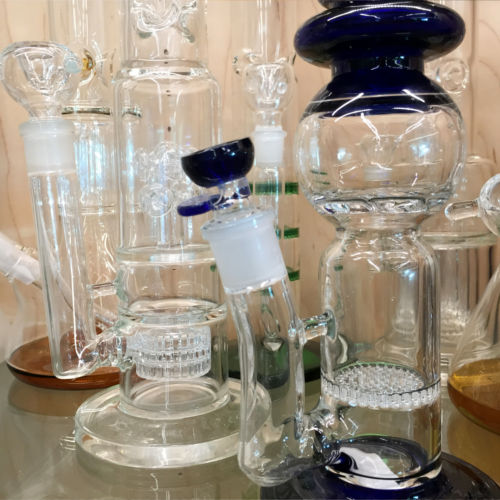 Beat the Odds by Obtaining your Bong Merchant Account
The unfortunate reality of being in the business of selling paraphernalia related to the use of marijuana is the unfair stigma of being a part of a fringe, niche market. When people working in the financial sector see that you're selling things like;
Blacklight Posters
Bubblers
Bongs
E-liquids
Pyrex pipes
Vaporizers
Rolling machines
Roach Clips
Rolling Papers
Scales
Stash Jars
Water & Wood Pipes
Tobacco Products
Charcoal
Grinders
Hookah Tobacco
Hookahs
Incense
Metal Pipes
Pipe & Bong Cleaners
Lighters
Glass Pipes
Glow Sticks
Pipe Screens
… they tend to get a bit uneasy. It does not matter that you may be operating well within legal parameters, they will consider you to be a high-risk enterprise.
Of course, merchant service providers are not entirely to blame. Part of the problem stems from the fact that merchant account providers must process through a bank. When looking to get your account approved, it is the payments provider's partnering bank that gives the final approval. Most payment processors only deal with one, typically non-high risk, tradition bank. So finding a merchant service provider with the proper banking partnership channels for your industry type are imperative to your credit card processing success.
Unfortunately, that means any businesses considered to be high risk has to sit at the back of the bus. While this is unfair, it is inevitable.
That's where Leap Payments comes in to make all the difference. Where other credit card processing companies haven't made room for "high risk" merchants like you, Leap is already set up with several banking partners to provide glassware merchant accounts, headshop merchant services, and other paraphernalia credit card processing options.
As long as businesses like yours are still subject to market discrimination, not having access to a solid and responsive glassware and bong paraphernalia merchant account can leave you open to all manner of problems.

Leap Payments knows how hard it can be to get by in a high risk, niche market. That why we are standing by, ready to provide fast and reliable service:
Glassware credit card processing
Bongs, pipes, glass smoking tools, smoking accessories
Headshop merchant accounts or
Cannabis paraphernalia merchant services
Got a Brick & Mortar, Retail Headshop Business?
You may feel left behind, but Leap Payments has you covered. Brick and mortar businesses have been less of a priority for many credit processing service providers. But we know that accepting credit card payments in today's world is a major part of your business model. That's why we provide full support for in-person credit card purchases with integration for most terminals & point of sales.
Why We Considered The Best For Glassware Payment Processing
Get the very best in credit card processing in the cannabis related industry when you partner with Leap Payments. We have experience working with high-risk paraphernalia merchants and offer flexible and financially secure accounts so you can focus on creating the best experience for your clients. We believe in keeping costs low by offer the lowest possible rates, and equip your business with a custom processing solution. Here are just some of the reasons companies open a glassware and bong merchant account with Leap Payments:
Get All Your Processing Needs from One Simple and Easy Source
Full Banking & Processing Functionality That Complies with Regulatory Standards
Hand-Crafted Solutions for Your Unique Business Needs
We Fight on Your Side to Get You Quickly Accepted and Processing
Gain Access to The Best Selection of Glassware & Smokeshop POS Systems and Card Readers
Leap Payments is here to help you find online credit card processing even if others have told you that your business is too high-risk. Understanding how the marijuana and related industry works, we can work with you to develop a unique solution that meets your specific needs.
Leap Payments will not leave you in the lurch when you're looking for fast, reliable, and high-quality customer service for your glassware credit card processing account.