Mobile Credit Card Processing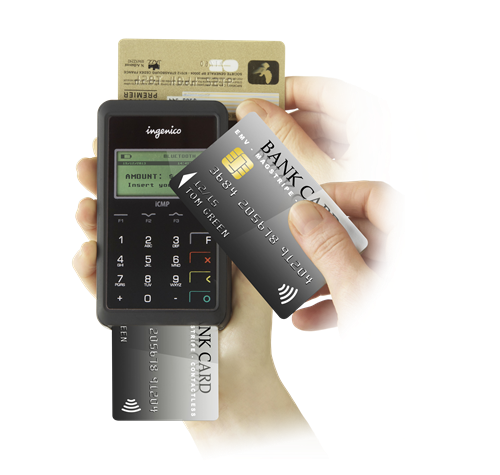 Boost Profits with Mobile Payment Processing
Just because you're on the go is no reason profits have to come to a stop. With mobile credit card processing, your business goes anywhere you do. Add multiple users, and suddenly you're open for business anywhere, any time. Use our mobile credit card processing solutions:
At Conferences and Conventions
While Making Service Calls
To Fast-Track Long Lines During Checkout
At Sidewalk Sales and Other Offsite Promotions
Selling Special-Event Merchandise
At Farmers Markets and Craft Fairs
While Traveling on Business
Wire Free Credit Card Reader
Even on Vacation
In other words, take your credit card processing wherever your goods or services are in demand!
Mobile Credit Card Readers For Businesses On The Go
At Leap Payments, our mobile options include credit card reader for iPhone, iPad & Android point of sale solutions. So, you'll always be ready to make a sale and accept credit card payments. Your customers will love the convenience—they just swipe and sign. You'll love the speed and portability. Payments are processed promptly, even as your receipts are delivered electronically.
Don't pay inflated rates to use your phone, our processing rates for mobile solutions are the same as standard merchant accounts so you know you always pay the lowest rates. If you have a retail account, you can add an unlimited number of mobile devices to your same account, so no need to maintain separate accounts for your sales… one account, unlimited flexibility.
For higher volume users we recommend a dedicated wireless terminal, because entering transactions on your phone is not as quick as using a device that was purpose built to be a mobile credit card processing machine. Leap Payments will help you determine the right solution for your business.
Expand Your Processing Horizons
Remember when the point of sale was limited to the physical business premises? Today your Android or iPad point of sale can be as mobile as you are. Let Leap Payments show you how easy it is to untether your transactions and supercharge your credit card sales. To find out more, call (800) 993-6300, or contact us online.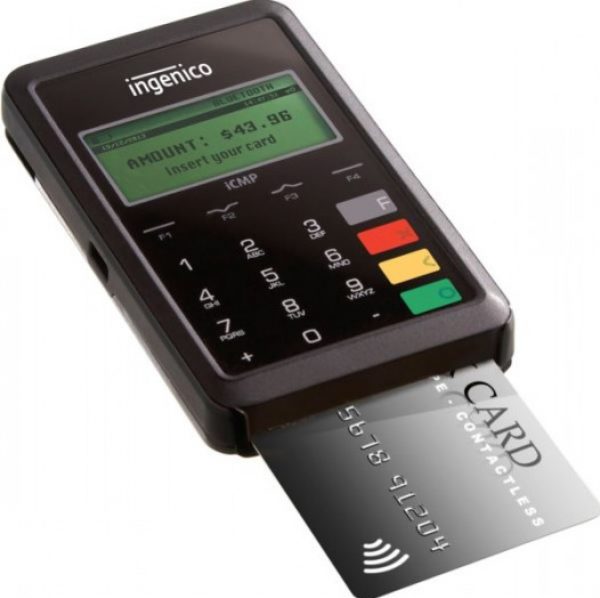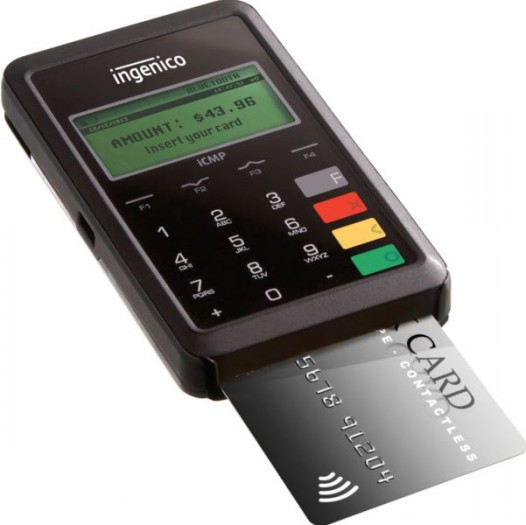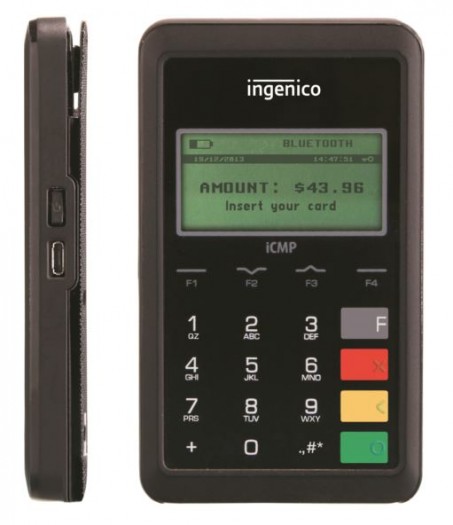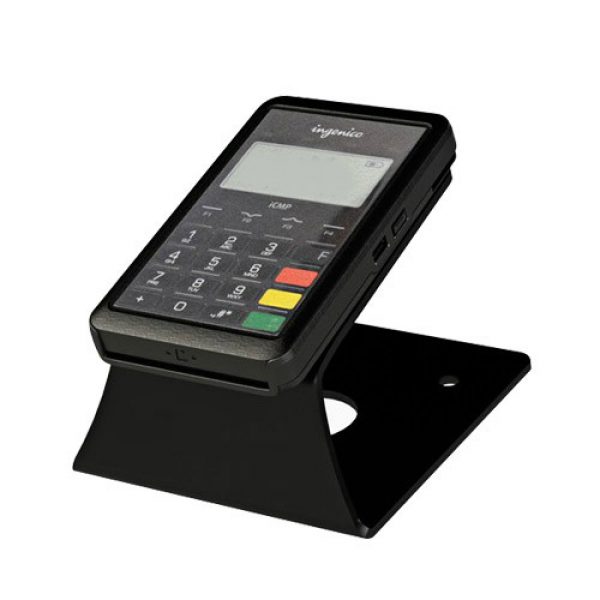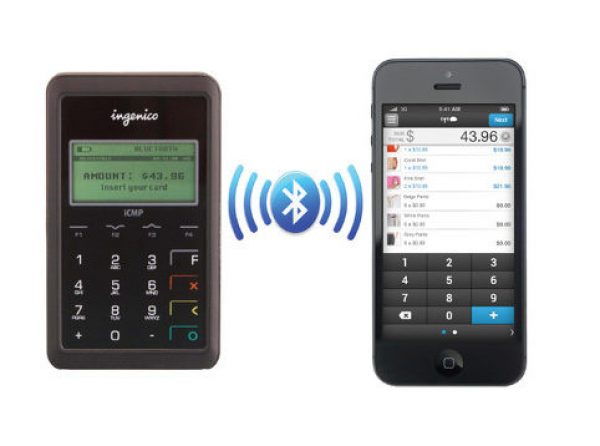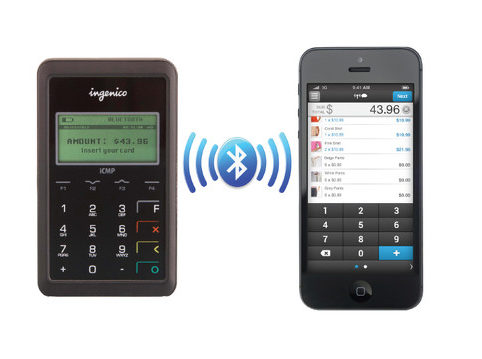 Ingenico ICMP Mobile Credit Card Processing Reader
Ingenico iCMP is a Bluetooth enabled card reader and PinPad that works with in conjunction with your phone or tablet to process credit and debit cards. Use the magnetic stripe reader on top to swipe cards, or insert chip cards in the bottom slot. This device also supports NFC payments such as Apple Pay, Samsung Pay and Android Pay, so you can just tap your mobile device and process payments. Can also be used as a secure PIN entry device to support PIN debit transactions anywhere.
This device can also be used with the Converge online gateway connected via the USB port to process any card type with your computer and any browser. Take advantage of the enhanced security of EMV chip cards on your mobile transactions with your phone, tablet, or even any computer that has internet connectivity.
Smartphone Credit Card Reader Solutions
Get Paid Using Your Smartphone!
Now you can use your iPhone, Android, or Blackberry to process credit card transactions wherever you are, whenever you need to accept payments.
Smartphone Payment Processing Solutions Offered by Leap Payments:
Highly mobile to fit your business needs
Secure and PCI Compliant
Customizable Receipts – emailed to client directly
Optional bluetooth or plug-in card readers and receipt printers
Scalable to fit your business needs today and exceed your expectations as your business grows
Two Ways To Process, Unlimited Flexibility!
You can use our online merchant virtual terminal and using your phone's web browser process your transactions on the go.
Use a dedicated application designed for your iPhone, Android, or Blackberry to simplify the processing. With the phone application you can also use a swiper customized for your phone, so you can achieve card present rates and reduce your fees.
Our mobile credit card processing solutions support your business the way you do business at the client's location, events, trade shows, or anywhere you need to get paid. You can secure a job by taking a deposit in the field instead of calling into the home office with just your smartphone.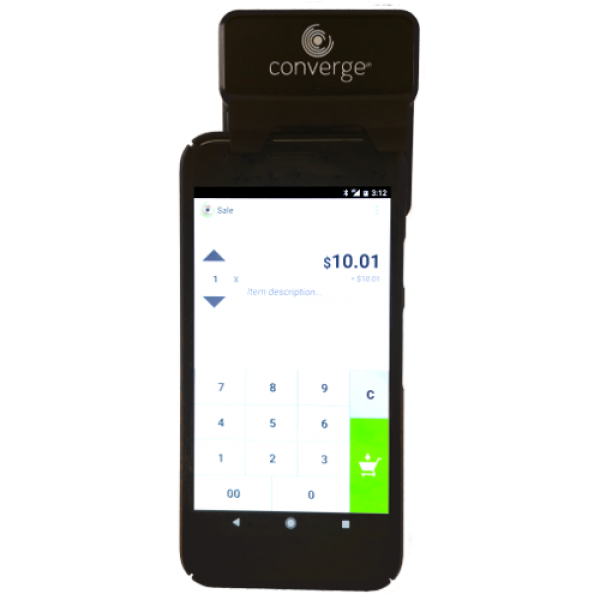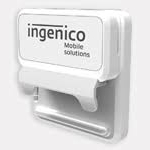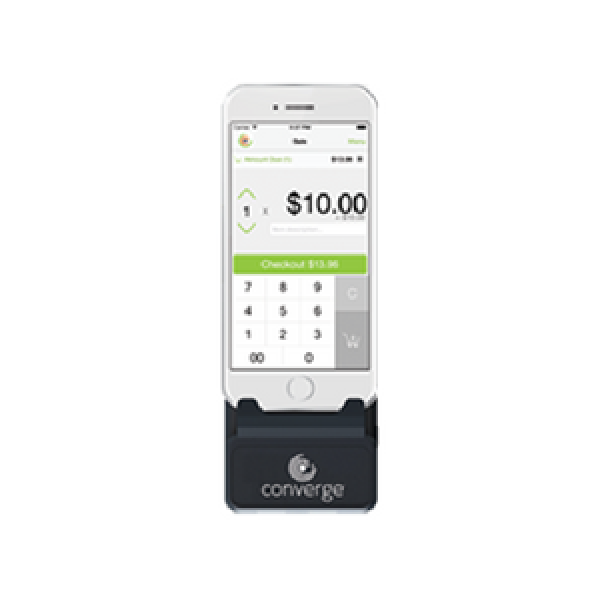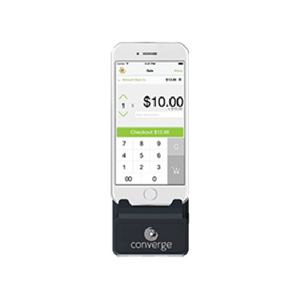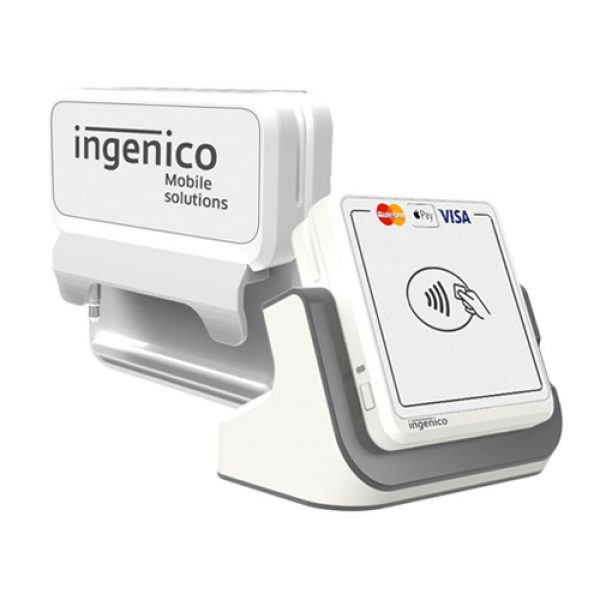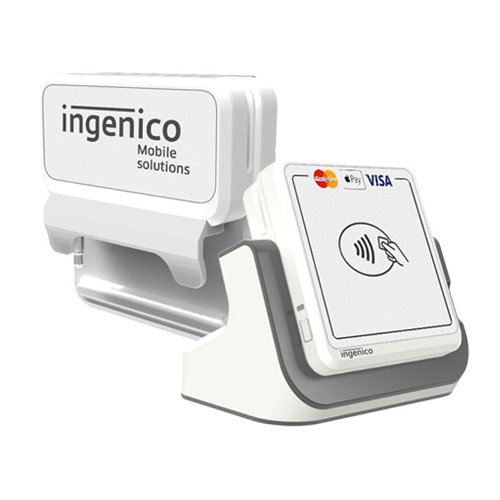 Ingenico RP457c Mobile Credit Card Processing Reader
We are pleased to announce the launch of Converge Mobile 1.3, which includes support for the new Ingenico RP457c. The Ingenico RP457c, is a robust, all-in-one card reader that accepts mag stripe, chip card and contactless payments, including mobile wallets. Customers can utilize the audio jack to connect the device to their smartphone/tablet or connect via Bluetooth.
Flexibility
3 in 1 Credit Card Reader ; Chip Card, Swipe & NFC
Connect The RP457c via Audio Jack, Bluetooth, or The Desktop USB Connector
Credit Card Reader for iPhone & Android Devices
Auto-Adjustable Clamp for Secure Attachment to Smartphones & Tablets
Ease Of Use
Slight Top Lip Makes This A Stable and Portable Credit Card Processing Device
The Best Card Reader for Android with An Omni-Directional, 3-track Card Reader
LED Light and Sound Indicators for Battery Life and Card Reader Status
Transfer Data and Charge From The Micro USB Port