Gun & Ammo Retailer Merchant Accounts
Merchant Accounts for Gun and Ammo Retailers
Currently, the sale of firearms for hunting and home defense in the United States have risen to unprecedented records. The firearm and ammo business is booming, and many individuals are looking to get into the industry. Having the ability to accept credit and debit card transactions increases revenue and provides a convenient service to your customer base. Many gun sellers have been looking to utilize mobile and online credit card processing solutions for online gun sales and at gun shows. Regardless of how well the industry is doing, getting approved for a gun and ammo merchant account is difficult. Leap Payments is a merchant account provider that will allow gun and ammo vendors accept credit card payments at their shop and on the go.
High-Risk Gun and Ammo Industry Approval
Gun and ammo retailers have faced difficulty when it comes to the online space, often getting denied for the same services they offer at their retail location. The firearm industry is labeled as high-risk by the financial institutions for various reasons:
Uncertainties of Future Regulations
High Chargeback Rates
Frequency of Fraudulent Sales
Large Ticket/Transaction Amounts
As the future of online firearm sales changes, it will cause new obstacles for your business as it grows into the digital world. When it comes to processing online and mobile firearm credit card sales outside of the retail location, many common solutions such as Square and PayPal are now refusing service. Don't get left behind with a company that refuses to let you grow and offer the best services to your customers. Leap Payments has custom solutions for gun and ammo merchant accounts to fit your business needs.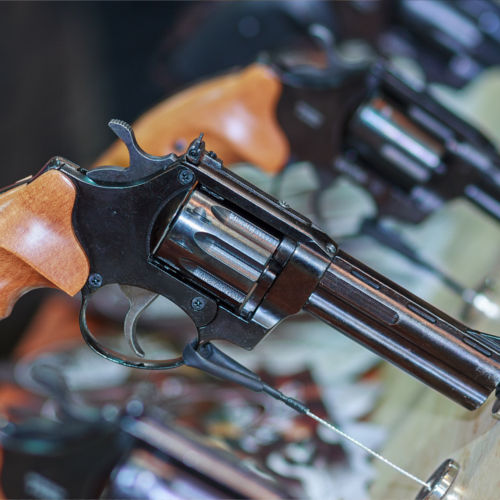 Leap Payments Guns, Firearms and Ammo Merchant Account
Leap Payments is the best-rated credit card processing company in the industry and we have experience working with high-risk merchants. You need a gun and ammo merchant account that offers you flexibility and financial security so you can focus on creating the best experience for your customers. We believe in keeping your costs down, getting you the lowest possible rates, and fitting you with a unique processing solution. Here are just some of the reasons companies open a firearms merchant account with Leap Payments:
Lifetime Rate Lock
Customized Online Processing Solutions
Next Day Funding
100% U.S.-Based Support Anytime
Since many customers prefer to pay by credit card, we work with gun and ammo companies to install card readers at physical locations and assist with building an online credit card processing program that integrates easily with their website. Learn more about the Leap Payments advantage and take the first step toward opening your firearm merchant account today. Contact a gun and ammo account representative directly for more information.