Virtual Terminal
Leap Payments' Converge Virtual Terminal website allows you to:
Accept all credit card types, including Visa, MasterCard, Discover, and American Express, without a credit card terminal.
Review your transactions and detailed history reports for your account online at any time with a small business merchant account from one of the best rated credit card processing companies.
Access the credit card merchant service from any computer and receive the lowest possible rates with our add-on USB credit card swiper from one of the top payment processing solutions available, anywhere.
Use our mobile App and mobile credit card swiper , so you can accept payments virtually anywhere.
Process checks electronically with your PC by adding a check scanner to quickly and conveniently add funds to your account or use our ACH service enter the account information and transfer funds directly to your bank account.
Integrate with your ecommerce shopping cart and virtual credit card terminals, so you have a single account for credit card processing for your small business.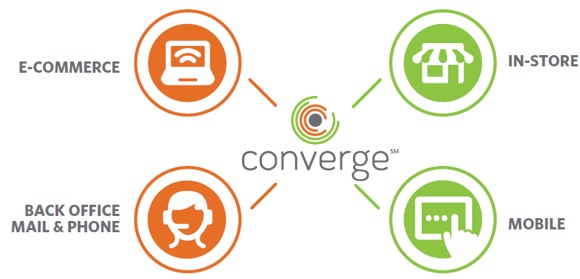 Ask your account manager how the virtual merchant software can put you in control of your payments anywhere you have an Internet connection. Instead of using a standard portable credit card reader, Leap Payments delivers a virtual terminal payment solution that provides you with next day funding* and the ability to conduct business with customers around the world.
*Next day funding is not guaranteed for all merchant accounts. Available only for qualifying merchants. To see if you qualify, call (800) 993-6300 now and speak to an account specialist.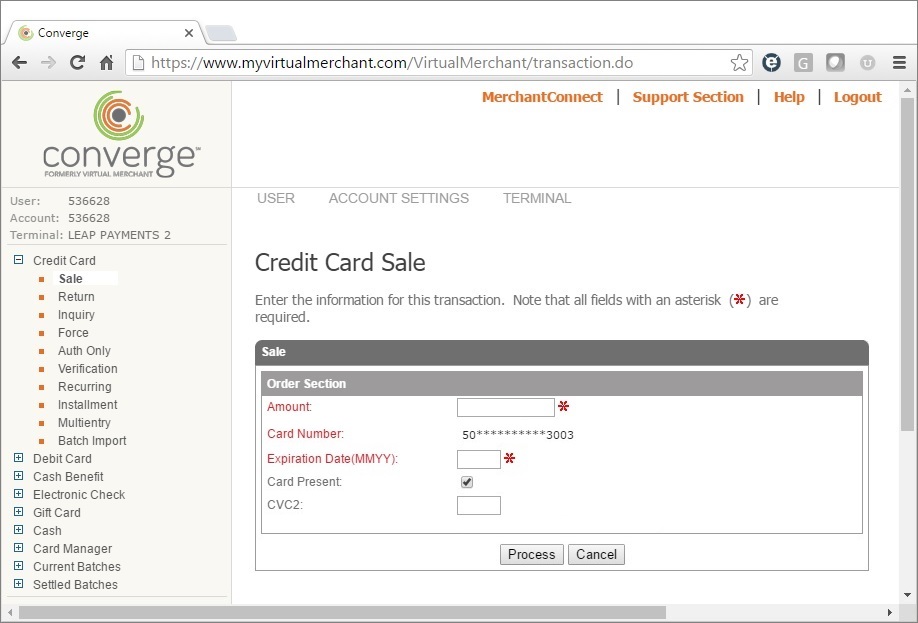 Online Payment Processing Features
1. A Single Gateway for Keyed/Swiped Transactions, eCommerce, and Mobile Credit Card Processing
Manage all of your in-store and online transactions using a centralized account.
Keep track of payments made using your credit card virtual terminal, as well as those using mobile credit card processing machines.
2. Stores Card Numbers (tokenization) for quick reference
Tokenization, when applied to data security, is when a sensitive data element is substituted with a non-sensitive equivalent and has no exploitable or extrinsic meaning or value.
It allows a merchant to support all of their existing business and card payment terminal processes that require sensitive data while mitigating risk and protecting your customers' confidential information.
Quickly reference your client's credit card information securely stored within your small business merchant services Card Manager service.
3. Recurring and Installment Payments Using a Virtual Terminal for Credit Card Processing
A recurring transaction will run automatically within the specified billing cycle on the scheduled payment day without the need to send it manually. You can also designate a specific number of installments to complete a payment plan using the virtual terminal payment solution.
4. Unlimited Users at No Additional Cost – Mobile Processing Included
Gain the ability to use multiple POS credit card terminals without having to pay for additional users. This includes mobile processing, an online terminal and optional USB credit card reader support.
5. Connect to your Shopping Cart
Integrate your online credit card terminal systems to keep track of sales and transactions across all platforms. Here is a list with some of our compatible carts.
Mobile Processing
Use your phone or tablet to process transactions anywhere with our Converge Virtual Merchant service. Our merchant credit card processing services allow you to simply access our website to process online credit card transactions or download our virtual merchant mobile app to your mobile device and you'll be able to accept card payments anywhere. It's head and shoulders above typical wireless/cell phone credit card readers.
Supported Devices: iPhone/iPad or Android phone/tablet
Process transactions on the go, wherever you are around the world
Cost-effective solution
Optional standard web browser interface also available to process transactions
Optional credit card swiping machine customized for your phone or tablet
Secure and PCI compliant
Customizable receipts emailed to clients directly
Now available – Mobile EMV processing solution
Use your mobile device to process chip cards, Apple Pay, Android Pay, Samsung Pay and others. This is Ingenico iCMP device connects via Bluetooth to your mobile device and can process the latest EMV cards and provides you the most chargeback protection available as your chip card transactions are more secure than key entered or magnetic stripe transactions. Also supports PIN debit, so you can get the lowest possible transaction costs.
Process any card type with a single device:
Tap and pay NFC transactions for true mobile to mobile transactions.
Insert chip cards into the bottom of the unit for seamless EMV transactions.
Manually enter card information, if the card is unreadable.
eCommerce and Point of Sale System Integration
By integrating your website's shopping cart with Converge Virtual Merchant credit card processing, small business owners can use the online terminal and virtual merchant mobile app as well with the same account. You also get an unlimited amount of users with no additional costs and no additional per item costs that are typically charged by online gateways.
For eCommerce websites Leap Payments is also an authorized reseller for Authorize.Net, NMI, eProcessing Network Transax Gateway, and many other gateways, so we can find a way to connect to your shopping cart and website credit card terminal systems to your merchant account. If you don't have a shopping cart, we can refer you to a secure cart that integrates directly with our services to ensure you have the credit card processing solutions to support your business.
For Point of Sale system providers, we offer the Converge SDK so you can integrate directly to the Converge Gateway to process EMV transactions via your point of sale system and significantly reduce your exposure to PCI Compliance. For details on our POS integration options please contact us and we will be happy to assist you.