B2B Credit Card Processing
With Leap Payments' business to business or B2B payment processing solutions, we will make sure that every transaction is handled professionally and accurately. Whether you need to accept a credit card for a large order or have thousands of clients you need to bill monthly and conveniently, we will provide you with the solution your organization needs.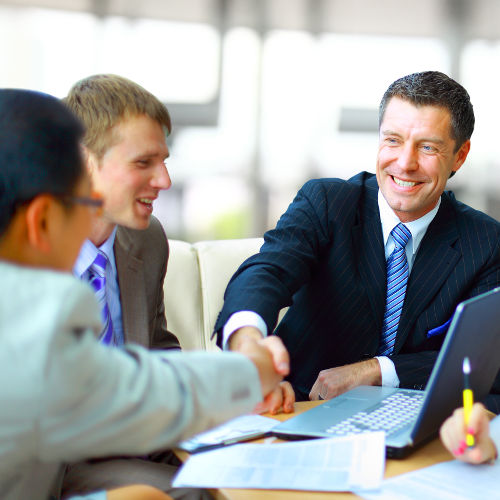 Our top priority is helping your organization develop the credit card processing solution that allows you to achieve your goals. To do this, we work with our clients to evaluate their situation and offer processing services that help improve efficiency and convenience for the business and its partners. Some of the services Leap Payments offers for B2B processing include:
Large ticket processing methods at low rates
The ability to accept all forms of payment from B2B clients
Service to any B2B client, including associations, property managers, utilities, and government agencies
Level 3 processing available for the lowest possible rates
Level 3 Processing with Converge Gateway
As of April 3, 2017, Leap Payments now offers clients the ability to provide business and government customers the convenience and security of accepting corporate, government, and purchasing (p-card) card payments. Transactions made with these qualifying specialty cards will be eligible for lower interchange rates as well. This means that your customers will see significant savings on high-volume transactions.
By accepting these types of specialty cards, you make it easier for purchasing departments and B2B customers to complete transactions with your business. At the same time, you see lower rates for your merchant account and are able to pass those savings on to customers by not having them pay a processing fee on their end. The result is simpler processing for you and better customer service for them.
What is Level 3 Payment Processing?
Level 3 payment processing offers customers the ability to present p-card and similar specialty Visa and MasterCard transactions in a manner that allows for lower interchange rates. Level 3 payments contain additional information about commercial, corporate, purchasing, business, and government cardholders that can be attached to a credit card transaction. Many government and institutional cardholders, like those paying with GSA SmartPay, are starting to require vendors to submit Level 3 Card Data. So, having the ability to provide Level 3 can open up opportunities to work with businesses that require these payment types, and the Level 3 detail level necessary for lower interchange rates.
Why should businesses consider Level 3?
Level 3 allows businesses to reduce costs for their consumers through the lower interchange fees on qualifying p-card and specialty card (corporate and government) transactions. This is an attractive feature for potential clients. Other key benefits include:
Elimination of invoicing, handling, mailing, depositing and collecting payments for qualifying purchases.

Faster receipt of electronic payments and improved cash flow.

Secure store customer information using Customer Manager for future purchases.

Process payments using the Converge payment platform with available security features like tokenization for an added layer of protection.

Add up to 5,000 unique users and assign role‐based permissions.
Next Day & Same Day Funding*
Don't wait to get paid. Cash is needed to pay bills, purchase supplies and inventory, and meet payroll obligations. With a next-day-funding merchant account, cash is available almost immediately, meaning businesses can meet their obligations without worry. Otherwise, it could take days, even weeks, before funds become available, which is typically what other credit card companies offer their clients. At Leap Payments, we believe in providing you with every tool to succeed, so that getting paid should be hassle-free.
What does next-day funding mean? Put simply, your B2B clients pay you today, and funds are available in your account in the morning. Other processing companies may offer "instant" funding for higher fees, but this is functionally the same as receiving your funds the next day.
Don't get sucked in with these offers. Instead, work with the experts at Leap Payments to develop a credit card processing plan that ensures you get paid quickly and conveniently. This way, you never have to worry that you have the cash in your account needed to continue to grow your business.
*Next day funding is not guaranteed for all merchant accounts. Available only for qualifying merchants. To see if you qualify, call (800) 993-6300 now and speak to an account specialist.
Online & Mobile Processing Solutions
With Leap Payments, you get online access to process transactions on any PC connected to the internet with our Converge virtual merchant software. Leap Payments' converge credit card virtual terminal is a convenient payment solution, allowing merchants to manually process credit card transactions and access accounts 24/7 from any computer with an internet connection, safely and securely. Leap Payments offers low-rate credit card processing for B2B companies, with the personal service that you deserve to keep your business running. This service includes unlimited users at no extra charge and the Converge Mobile App for any Android or iOS device.
This level of versatility is essential for growing businesses and those that regularly meet with prospective and current clients. The ability to accept payments using a secure mobile connection is vital because it could mean the difference between closing a deal and watching a prospect turn to your competitor. Work with your representative at Leap Payments to discuss how your business can take advantage of our online and mobile solutions.
Custom B2B Merchant Accounts
Leap Payments understands that companies dealing primarily in government purchases and B2B transactions have different expectations and requirements than B2C clients. Our services provide monitoring, accurate reporting, and ultimate control over all business transactions, therefore eliminating any risk of inappropriate spending with corporate credit cards.
With our low processing rates, you are able to offer higher levels of service at reduced costs. Leap Payments also allows you to accept all types of cards, including Visa, MasterCard, American Express, Discover, ACH, and International cards with currency conversion, whether online, over the phone, or in person. Over 190 currencies are supported for our international clients, so you have peace of mind knowing that the behind-the-scenes work is being completed and you can process transactions with confidence.