Furniture Retailer
Merchant Accounts
At Leap Payments our goal is to make sure that your business can process credit cards. We can support industries considered by some to be high risk with domestic and even off shore solutions, so your business can accept credit cards.
Furniture Retailer Merchant Accounts
Accept Credit Cards with a Furniture Merchant Account
Furniture retailers have been moving online in increasing numbers over the last several years. This change in the industry has brought a big increase to profits, but it has also created change in the way furniture businesses must get their merchant accounts. Buying furniture online has become more popular thanks to payment processing and shipping technique advances. The average ticket or transaction is very high in furniture retail, and this can cause issues for businesses looking for a merchant account. Leap Payments offers the perfect furniture retail merchant accounts that are a great fit as credit card processing options for online, in-store pick up services, or specialized direct small shipping stores.
Just as many other industries have done in the digital age, the home furniture industry has fully embraced the world of online sales. Naturally, the benefits are enormous. With the ability to reach a larger, internet-based buying demographics, your sales are only limited by the stock you are able to buy and the pieces you are able to ship to online customers. However, with these benefits comes additional risks. In the eyes of many traditional credit card processing providers, the furniture industry, both the online and retail components of your business, comes with a high degree of risk.
Furniture sales may not seem like a high-risk business, but the truth is that credit card processors and furniture merchant account service providers think otherwise. If you've had trouble obtaining secure and reliable furniture merchant services from traditional credit card processors, we can help.

One of the biggest reasons credit card processing services look on your business as a risk is the high incidence of purchases, mainly online sales, being made without an actual swipe of the customer's credit card. This exposes merchants and their payment processors to potential fraud and chargebacks. Keyed transactions that become chargebacks are much harder to fight and prove as a legitimate transaction.
This makes it very easy for fraudsters to make false claims- and that risk is in addition to real damage resulting from legitimate claims. In other words, if you sell furniture online or at a retail location, traditional banks and credit card processors will be reluctant to extend their full services to you and decline your application for an furniture merchant account.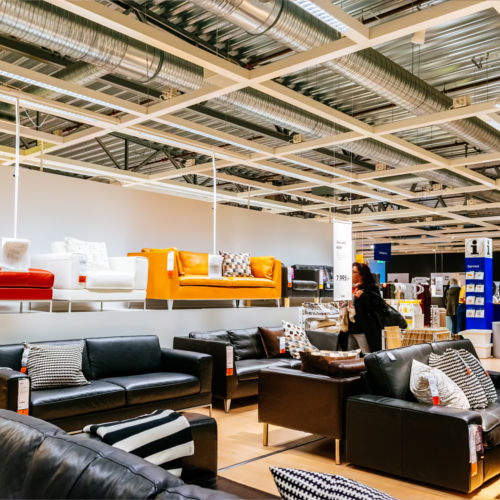 Roadblocks Facing the Furniture Retail Industry
Despite the increase in popularity and effectiveness of online sales, banks tend to be stricter about opening merchant accounts for businesses that operate online than for traditional retail locations. Financial institutions have labeled online furniture businesses as high risk for several reasons:
High Chargeback Rates
Large Tickets and Transactions
High Order Volume
Buyer's Remorse
Chargebacks and disputes arise from products that might get damaged during the shipping process. Many traditional credit card processing companies can have issues with the large volume and ticket sizes, even for retail location sellers. Regardless of the tendency of institutions to shy away from this online sector, Leap Payments can get your account started quick and easy.
Obtaining Your Furniture Merchant Services Account
With some industries, the risk perceived by credit card processors is imaginary. Unfortunately, in your business- the risk is real. But if every business that faces risks could not access reliable and secure payment processing, the economy would grind to a halt!
That's why we have developed furniture store payment processing specially designed to deal with the challenges associated with your business.
Getting started with your Leap Payments online furniture merchant account is easy. Our application service is free, but best of all- we work with you to help ensure you have the best chance of being approved. We provide fully customizable merchant accounts services, making it possible for you to accept credit card payments- hassle-free.
To set up your merchant services account, follow the steps below. Our furniture merchant processing specialists can walk you through each step before you submit your application to give you the best chance of being approved.
1. Determine How Credit Payments Will Work With Your Business
You should be able to answer a few questions about how credit card payments will work for your organization. You should know what credit card brands you wish to accept. Also, decide how you wish to accept payments; online, virtual gateway or retail point of sale system.
2. Compare Furniture Merchant Service Providers
You should shop around for the best merchant service provider. Look at the fee schedule, rates, and penalties for as many merchant service providers as possible. Keep in mind, if you find a good deal elsewhere – we can beat their rates!
3. Have Processing and Financial Records For At Least 3 Months
To be accepted, you'll need to submit supporting documentation with your application to show that your business has a proven record of processing history. We will give you the full checklist of documents needed to complete the application process so that you don't miss anything.
4. Accept Credit Card Payments and Grow Your Business
Once accepted, you'll be free to do business on your terms, make money, serve your customers, and grow your furniture business.
Leap Payments is one of few merchant account providers who focus on providing high-risk businesses like yours with the payment processing services you need to conduct business. Some specialize in card-not-present furniture retailers. Others focus on brick and mortar furniture sellers. Here at Leap Payments, we do both.
Leap Payments Approves Furniture Merchant Accounts
Signing up for a furniture retail merchant account at Leap Payments is simple. You can rest assured that your rates will never increase for the entire lifetime of your partnership at Leap Payments with our Lifetime Rate Lock guarantee. Get customized credit card processing solutions specifically to meet your business needs. Help reduce the risk of chargebacks to your company with safe and secure gateways. Our 100% U.S. based customer support team is ready to help you, one on one, whenever you need us. Get assistance with account questions, advice on credit card readers and to set up your online credit card processing account. Learn more by contacting a Leap Payments furniture retail representative today.