Online Gaming & Casino
Merchant Accounts
At Leap Payments our goal is to make sure that your business can process credit cards. We can support industries considered by some to be high risk with domestic and even off shore solutions, so your business can accept credit cards.
Online Gaming & Casino Merchant Accounts
Online Casino & Gaming Merchant Accounts to Boost Business
As the rise of online and mobile based gaming and gambling has increased, so has the need for payment solutions. Finding the right partner for your credit card processing is not easy and this is especially true for online gaming companies. Digital casinos must also navigate meeting customer needs with operating inside compliance of industry regulations and laws. Being able to make money and support growth is your main priority and to do this, you rely on credit card payments from customers. Online casino and gaming merchant accounts from Leap Payments are available for companies in the following industries:
Leap Payments Helps Overcome the Obstacles
Online gaming and casino companies present several difficulties for business owners. In addition to age and state based laws and regulations, merchant account providers also have rules to consider before deciding to work with one of these companies. The digital platform, especially with gambling, always has the potential of higher rates of chargebacks for the company and its credit card processor. Because of these challenges, it can be complicated for online casinos to find a willing processor to offer them a merchant account. Banks and lenders label casino companies as "high risk" for a variety of reasons. These financial institutions may not want to take the chance with their money simply because they do not understand how the industry works.
Leap Payments is here to help if you have had trouble finding online credit card processing or if you have been told your business is too high risk. We understand the nature of online gaming businesses and will develop a fully customized solution with you to meet your specific needs.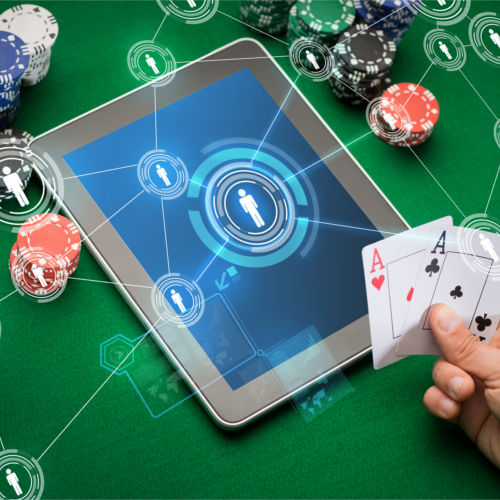 Reasons to Choose Leap Payments
Gaming merchants need a card processing partner that keep their best interest in mind from the get go. Easily set up a merchant account with Leap Payments so that you can get back to what is most important – your business. Our pricing plans are designed to give you the flexibility you need to run your company while ensuring that you pay the lowest possible rates and get funding when you need it.
Easily integrate credit and debit card processing into your existing system. Our solutions work with many website shopping carts and platforms using our Commerce SDK so your customer orders won't skip a beat. Process payments safely and securely by adding a layer of protection to your transactions that will lower the risk of fraudulent transactions and save you money. Contact a Leap Payments online gaming and casino account specialist today for more information.