Moving & Transportation
Merchant Accounts
At Leap Payments our goal is to make sure that your business can process credit cards. We can support moving and transportation merchants that are considered by some to be high risk. We offer domestic and even offshore solutions, so your business can accept credit card payments.
Moving & Transportation Merchant Accounts
The moving and transportation industry has enjoyed a huge boost in recent years. In 2017, it was projected that the market for moving services would grow dramatically owing to the fact that the housing market is in a pro-buyer phase. In recent months, that projection has turned out to be correct.
That's great news for you, but an increase in business means an increase in the challenges faced by your industry. At present, one of the most significant challenges faced by moving and transport professionals is the fact that many credit card processors consider your business to be "high risk." This makes obtaining essential services like a moving company merchant account and credit card processing much harder than it should be.
Why is My Moving Company Considered High Risk?
Businesses are considered high risk when they exist within an industry where fraud, theft, chargebacks, and other fee disputes are common.
Another key reason the majority of traditional, low risk credit card processing companies shy away from businesses in your industry is the tendency of moving and transport companies to furnish high ticket, one-off sales. Sales like these are prone to the problem known as "friendly fraud." Otherwise known as chargeback fraud, friendly fraud is when a customer requests a refund from the bank after services have been rendered. They may have moved their belongings, for example, and then complain that the truck was excessively dirty. Or they may say that the movers were rude. Surely, you could think of a hundred other examples. But friendly fraud is when the customer gets what they paid for, and then demands a refund for spurious or subjective reasons.
In other industries, friendly fraud is still a problem, but because ticket sales tend to be smaller, and because customers tend to buy services and products more than once- it is easier to fight back. Returning friendly fraudsters can be turned away. But in the moving business, you are not likely to see one friendly fraudster more than once.
For small and medium-sized businesses, these problems mean lost time and revenue. For credit card processing, it can mean the closure or declined application for a merchant account. The big box, one-size-fits-all credit card processors are set up to try to avoid dealing with "high risk" businesses with these kinds of issues because their banking partner most likely only takes on low risk industries. Here at Leap Payments, we understand these issues when running a moving business but we believe your business deserves a chance to process credit card payments just as much as any other company. When other companies turn you down and decline applications, we work with you- rather than giving you the cold shoulder.
Because your industry is a high-risk business model, credit card processor you choose to partner with will make all the difference when looking to get approved.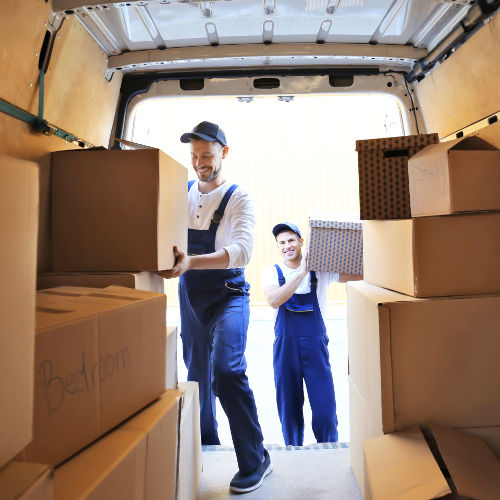 Obtaining Merchant Services in a High-Risk Industry
Knowing what you know now about why it is so difficult to secure a moving company or transportation merchant account, you can try your luck waiting for approvals at traditional low risk processors, only to get declined repeatedly, or you can go with a merchant service provider that specializes in high-risk industries.
Applying for your moving company credit card processing account can be a long process. You will be expected to submit numerous forms of ID, business records, tax information, and more. On top of that, many processors will tack on an application fee, sometimes as much as $300, which will not be refunded if your application is denied.
Here at Leap Payments, we specialize in catering to high-risk businesses like yours. Our goal is to provide you with the transportation payment processing you need to do business and serve your customers. No application fees, no hidden costs or contracts. When working with an experienced high risk merchant account provider like Leap Payments, you can expect;
A Timely Quote on Processing Fees
When you contact us, you'll be assigned to one of our high risk account specialists who will go over your businesses details immediately. We do not make you wait. A representative will present you with a quote on the same day or sooner. You will not be forced to jump through hoops or lead astray, we will tell you your rates, approval odds and your merchant account options upfront and honestly.
The Lowest Pricing for Your Industry
While there may be other high risk credit card processors in the industry, a lot of them prey on the desperate and charge processing rates 5 to 10 times higher than normal. We can offer rates that are much more competitive.
Responsive, Proactive Customer Support
When you contact us, we get back to you as soon as possible. We work with many high-risk businesses, and we know how frustrating it can be to deal with big faceless corporations.

Let Leap Payments be Your Credit Processing Solution
Your industry has enormous potential! With the real estate market in an upswing, and gas prices at their lowest in decades, demand for your services is rising. Unlike the big box, generic credit card processing companies, we want to be a part of your success. Apply for your moving company payment processing today, and get things moving!
Leap Payments is Built to Serve Your Industry
As a leading payment processing company offering transportation credit card processing to businesses like yours, we take pride in catering to our high risk merchants. Not only do we work with businesses deemed too "high risk" by other processors, Leap Payments offers top notch services like same day or instant funding, 24/7 customer support, mobile card processing and integration for your existing processing equipment. The idea is to provide no holds bar merchant services that , not only let you accept credit card payments, but also allow you to have a processing solution customized to fit YOUR needs. By specializing in high-risk industries, we are knowledge about the struggles facing moving and transportation businesses and how to avoid and remedy them.
A Moving Company Payment Processing With Leap Payments Means;
Accept all payment types from major credit card brands (VISA, MasterCard, Discover and American Express): Never turn away a client because of unsupported processing
Accept credit card processing on the go or at a job location with our mobile credit card processing for moving companies
Integrate with your existing payment gateway or terminal. If you need new equipment, we offer wholesale pricing
Competitive fees and low rates: Our fees and rates will always be competitive because we know that you have options
Multiple merchant accounts: If you need a higher monthly processing volume, we can get you approved at multiple solutions and set up multi MID switching
High-level PCI compliant security and encrypted transaction. Keep your clients and your business safe
Round the clock support: We excel where the big credit processing companies drop the ball, 24/7 US based customer support and no long holds waiting for someone to pick up
Easy and responsive applications: Unlike other credit card processors, we will give you updates on your application as they happen. Get approved in as little as 24 hours