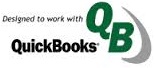 Simplify your business accounting by integrating your credit card processing with Quickbooks Pro without paying the excessively high fees charged by Intuit.
Accepting credit cards can help increase your cash flow, so credit card processing is a no brainer for your company.  But choosing the wrong processor can make your life miserable and cost you thousands more than you should pay.  The convenience of an integrated system with your accounting software is undeniable, so you can process your invoices and enter credit card information to get paid immediately.
Now with our QuickBooks plug-in you can utilize the service of Leap Payments, enjoying the lowest rates possible, with access to Leap Payments professionals who want to receive your calls and will never put you on hold for 30+ minutes to answer your questions.  Your personal account representative will be with you for the life of your account, so forget pressing 1 for service and 2 for sales, with Leap, just call us and a real human will be glad to help.
Our integrated payment system is also compatible with several different business tax software programs, making it easier to have all the data you need to file your quarterly or yearly taxes available at the click of a button. When you integrate your Leap Payments credit card processing and Quickbooks Pro, everybody wins.