It's no secret that customers enjoy the freedom of choice, but this isn't just limited to product selection or delivery options. Giving your customers buying power in the form of alternative payment options is often overlooked but it can sway on-the-fence purchases and boost overall sales. This is especially true with large ticket items and services.
Now, you can offer your customers a pay-over-time option alongside traditional payment methods during checkout. With a Leap Payments merchant account, your customers have the freedom of choice to pay in a plethora of ways, including financing. If a customer is weighing their final purchase of the immediate availability of funds, they can choose from several payment plan options. Overcoming that price barrier, all in a smooth, fully integrated process during checkout, has increased sales and boosted bottom-lines for our merchants.
Our banking partners have the highest rated consumer approval rates in their industry and give us the flexibility to custom tailor a solution to fit your business' needs, all at cost-effective rates. Pitching this option during checkout has also never been easier. With no hard credit checks, there is zero impact to your customers' credit score. This alleviates most hesitations and basically sells itself.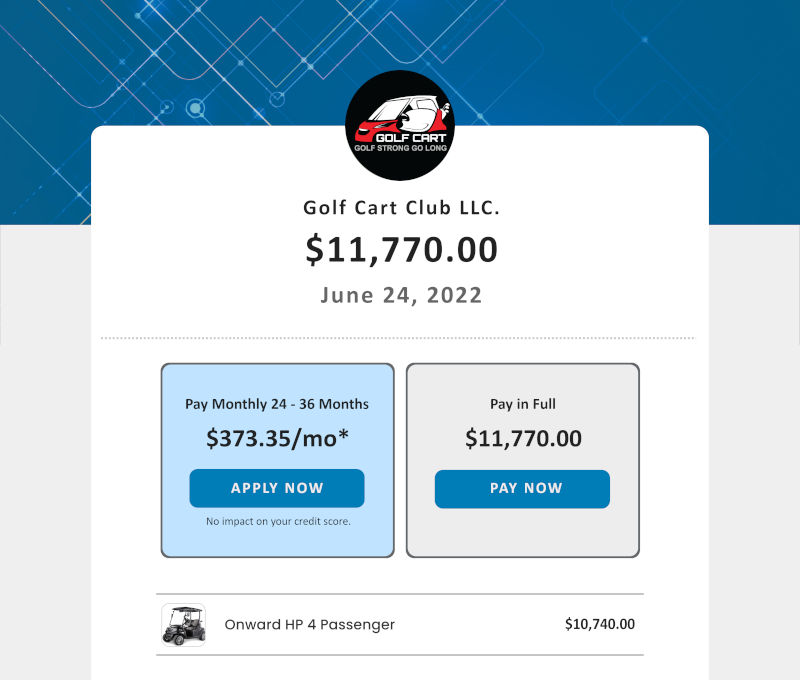 Benefits of Buy Now and Pay Later:
Provide Flexible, Pay-Over-Time Options
Easy Integration With Your Existing Systems
Zero Credit Score Impact on Customers
No Risk and No Setup Fees
Make Large Ticket Items More Obtainable
Convert More Potential Customers into Sales
Offer Option at POS, or via Invoices & SMS
How Do Payment Plans for the Customer Work?
The process is actually very simple. Your customers will check out as per usual, from your point of sale, through an invoice or pay-by-text. They are presented with the finalized price of their items and are given two options, pay the full amount, or apply for a monthly payment plan of cheaper installments. The term length options can be set by you and chosen from by the customer. Customers will enter in only the required information, set their plan length and move onto the first installment payment.
The best part; you don't need to worry about the monthly invoicing, payment reminders or chasing down customers for missed payments. You get paid the full amount, minus processing fees, within 24-48 hours and can move on with what you do best; running your business!
Flexible Terms | Competitive Rates | Up To $25,000
Reach More Customers with Better Payment Options
Regardless of the industry you're in or the products you sell, our custom-tailored programs will help remove price as a barrier, convert window-shoppers into buyers, and increase your average ticket amount. You'll also get the added benefit of standing out from your competitors and expanding your customer base. Getting set up only takes a few minutes, so give us a call or fill out the form below when you're ready to boost your bottom line!