In conjunction with Costco, Leap Payments proudly supports Children's Miracle Network. Our banner is proudly displayed at the Burbank, CA Costco location for our support of their local campaign to bring awareness and raise funds for this worthy cause.
We are proud to be ranked as one of the best merchant account providers offering next day funding and the best rates for credit card processing and lending our support to Children's Miracle Network.

*Next day funding is not guaranteed for all merchant accounts. Available only for qualifying merchants. To see if you qualify, call (800) 993-6300 now and speak to an account specialist.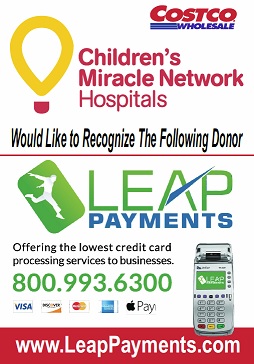 About Children's Miracle Network
Donations to Children's Miracle Network have gone to support research and training, purchase equipment, and pay for uncompensated care, all to save and improve the lives of as many children as possible. Right now there's a Children's Miracle Network Hospital working to save the lives of kids in your community. In fact, 62 children enter a Children's Miracle Network Hospital for treatment every minute — that's one child every second. Some are battling cancer. Some are suffering from a traumatic injury. Others require constant care because they were born too early, or with a genetic disease. Regardless of why the kids are there, Children's Miracle Network Hospitals always have their doors open.