Whether your business travels to customer premises to conduct transactions, works out of a small compact area with limited space for a full cash register, or moves from one location to the next regularly, it makes sense to make the leap to a mobile payment terminal. With mobile terminals, it's easy to accept payments anywhere. Mobile businesses—from delivery drivers to electricians—love the ability to accept payments on the go. Even fixed businesses can benefit from a mobile terminal, though. Imagine a restaurant or coffee shop where the waiter could take a customer's card and swipe it right there at the table?
Sleek, Modern Mobile Processing
With the new Poynt 5 payment system, Leap Payments is getting into the mobile terminal payment market for the first time. The Poynt 5 is sleek, lightweight, and wireless. It offers Wi-Fi, and Bluetooth connectivity, for maximum convenience and versatility. Whether you are in your main company building connected to the Wi-Fi or doing business on the road utilizing your phones 3G or hotspot to process payments, the Poynt 5 delivers on its end of the bargain.
Features Included with the Poynt 5 Mobile Payment Terminal
• Compatibility with All Payment Methods
The Poynt 5 mobile terminal allows businesses to accept a wide range of payments, so they don't have to restrict customer options. The device is compatible with all forms of payments, including magnetic stripe, EMV or chip cards, and mobile payment platforms such as Apple Pay (also known as NFC payments).
• Built-in Components to Process Payments
In addition to having a versatile card reader, the Poynt 5 mobile terminal also provides everything you need to process payments from those cards. Don't be fooled by the compact design. The Poynt 5 touchscreen makes it easy to pull up a PIN pad and a signature pad to finalize transactions. You can also use the device as a cash register, using the built-in camera/barcode scanner to ring up products and relying on the touchscreen to add up dollar amounts. The device even connects to wireless printers, to print out receipts for customers.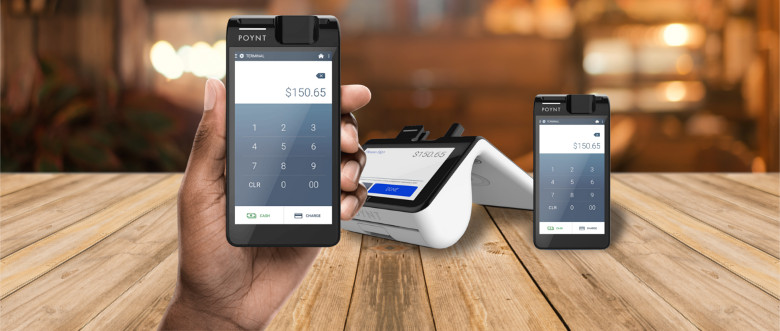 • Robust Security
A common criticism of mobile payment devices is that they aren't as secure as in-store point-of-sale systems. Leap Payments has done a lot of work to make sure that criticism doesn't apply to the Poynt 5. The device, when connected to a Leap Payments merchant account, is protected with the powerful Safe-T security system, which encrypts every transaction to protect customer data.
• Sophisticated Metrics and Mobile Reporting
In addition to tools for preparing, finalizing, and processing transactions, the Poynt 5 device includes a dashboard view that tracks metrics on your business. Using this intuitive but sophisticated mobile reporting platform, you can see details about profit and revenue, monitor inventory, refund transactions, and more.

The Poynt 5 mobile payment terminal system packs all these features into a lightweight design that looks great and is barely bigger than a smartphone. The device also integrates seamlessly with Leap Payments' merchant services, which offer same-day or next-day funding, dedicated account representatives, 24/7 customer support, and affordable rates—all with no contract commitment. You can purchase the Poynt 5 device through the Leap Payments website.
Save time shopping around for the best mobile processing provider!
Call Leap Payments at (800) 993-6300 Today!
High Risk Accounts, The Lowest Rates, No Hidden Fees, and Much More!