As the owner of a new and growing business, you may have managed without a merchant service provider account. Now, you want to grow your volume to a new level and still be able to manage cash flow efficiently. It's time to become authorized for a merchant service account to process credit card payments. If you choose, you can also accept ACH payments, which directly pull funds from a bank account without the need to process paper checks. Some providers view ACH processing as a separate service that will require another step in approval.
You will be ahead of the approval game if you apply to a provider with all necessary documentation at the ready, and with full awareness of the standard requirements you need to start a new merchant service account.
Review some important steps below to prepare for this relatively simple process. Soon, you'll be shopping around for a provider that offers the most reliable, complete service package for your business, with the lowest impact to your bottom line.
Basic Requirements
Qualifying for a merchant service account will be relatively simple if you do your homework and are prepared to discuss four fundamental categories:
1. Basic business documentation.
Have a proper business license for the state or locale in which you do business or are incorporated. You'll need the license number, along with your employer identification number (EIN) or social security number (for sole proprietors). Be ready to provide the date on which you started the business.
2. Business volume. A merchant services provider will evaluate your volume of transaction processing based on estimated or actual numbers you provide, partly to determine the viability of your business. The higher the level of transactions you project, the more documentation you will need to provide, ranging from bank statements for a few months up to financial profit and loss statements for a two-year period if you process the highest volumes.
3. Risk assessment. The payment processor and their partnering bank will ask to see your business records in order to evaluate your business viability. They will consider a set of indicators to understand the level of risk involved for you and for them. Be ready to provide information such as:
credit rating; manage it for your business just as you would your personal credit history, by "cleaning" it in advance to remove prior late payments, liens, or bankruptcies;
previous merchant service accounts;
length of time in business;
record of chargebacks, or return of funds from the underwriting bank to a consumer, in the event you are unable to fulfill an order. If you appear to have a high number of chargebacks, the provider or bank may flag your application for further evaluation.
4. A business bank account. You will need a separate business bank account to receive funds for all your transactions. Check around for a convenient, local bank or branch that offers business accounts. They will ask for your EIN or social security number (for sole proprietors without employees).

Reduce Credit Card Fraud
Credit card fraud is a major risk for any business today. According to statistics from The Nilson Report, global card fraud losses in 2012 totaled over $10 billion1. It's no wonder your preparedness to reduce and prevent credit card fraud will be a major factor in evaluating your application for a merchant service account.
When applying for an account, be prepared to discuss the steps you have taken or will take to protect against fraud. Consider electronic security options to accept credit card payments online, like purchase encryption, the Verisign system, an address verification system, and/or card code verification. One screening method is not enough to protect you on its own, so be sure to employ a combination to improve your level of protection.
Be informed and train any employees to
be on the lookout for signs of fraudulent orders
, such as: large Internet orders, missing identification information, discrepancies in billing and shipping addresses, or rush requests on large orders for high-priced items. Implement a higher level of scrutiny for foreign orders, especially when U.S. credit cards are used to ship to locations outside the country.
2
Keep your merchant service account in good standing once it is open, as it will be routinely reviewed by your processor. Be ready to become PCI DSS compliant soon after opening your business and new merchant service account.
PCI DSS Compliance
The PCI (Payment Card Industry) Security Standards Council is a worldwide open forum, responsible for developing and managing the credit industry's standards. These include the Data Security Standard (PCI DSS), the PIN Transaction Security (PTS) requirements, and the Payment Application Data Security Standard (PA-DSS).
Compliance with these various standards is enforced by the major payment brands, including American Express, Discover Financial Services, JCB International, MasterCard, and Visa, Inc. In order to protect customer card data security, compliance with PCI DSS standards is expected of all merchants who accept credit cards.3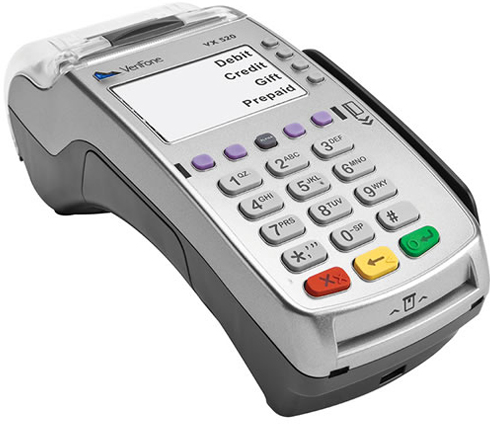 Shop Around for Your Merchant Service Account
Take a little time to shop around for the right provider. All merchant service accounts build in fees per transaction, so you'll want to evaluate the various fee structures to accurately understand what your total cost will be.
Match up the service provider company with your specific business needs. As a retail business, you must rely on secure credit card processing for the bulk of your cash flow. Now that companies with small to medium sales volume are accepted for credit card processing, you have the choice of using a service that was formerly offered only to large companies.
Look for a company like Leap Payments that offers online credit card processing, ideal for retailers and contractors, as well as credit card machine and mobile card processing options, which are best suited to professional and personal services. Restaurants will need point-of-sale systems for PC, Android tablet, or iPad processing. Online payment processing is essential for eCommerce businesses, so check that your web site, shopping cart, and payment gateway are all smoothly integrated with your payment processor.
As you evaluate the types of services offered by Leap Payments or other providers, be sure to consider alternate pricing plans. Some plans are only available to the largest volume businesses, but interchange-plus pricing is now offered to all Leap Payments clients so that the lowest cost option is accessible to small businesses. Multi-tier pricing sets fixed rates for every type of card so you know exactly what costs to expect. Some providers will charge statement fees, junk fees, or impose monthly minimums. Be sure to check for—and avoid—hidden fees and teaser rates.
Besides pricing, there are other considerations in choosing a processor. Compare and look for the lowest cost that includes: next day funding* for deposits; responsive customer service assistance, and monthly statements that summarize all your transactions clearly at no added cost.
*Next day funding is not guaranteed for all merchant accounts. Available only for qualifying merchants. To see if you qualify, call (800) 993-6300 now and speak to an account specialist.
1. http://www.nilsonreport.com/publication_chart_and_graphs_archive.php?1=1&year=2013
2. http://www.businessknowhow.com/money/credit-card-fraud.htm
3. https://www.pcisecuritystandards.org/merchants/