As a vendor for firearms and firearm components and accessories, you know that the law has long recognized the natural right of citizens to build homemade weapons for reasonable defensive and homesteading purposes. But that time appears to be coming to an end, at least for now. In April, the Biden Administration set up new restrictions which would ban 80% lower receivers and 80% lower jigs, making them illegal for purchase after August 24th, just a few days after the time of this writing.
This law will make it all but impossible for law-abiding citizens to obtain a fully functional, modern firearm without submitting to background checks, FFL requirements, and without going on a list of registered gun owners. What's more, it means the indigent citizen, without the ability to pay full price for the technology necessary for self-defense, will lose the constitutional protection of his natural right to defend himself and others.
At a time when police are actively failing in their duty to protect Americans and when war may be imminent, these are disturbing facts. Worse still, those who deal in and sell firearms and firearm-related products are almost certainly marked as high-risk vendors by their credit card processors. Unfortunately, the only good news we can offer you is that Leap Payments is here to help.
Effects of the New Rules: 2021R-05F
The new regulations to be enforced by the ATF will attempt to enforce the following effects:
1. It will alter the longstanding definition of 80% lowers, 80% frames, or lower receiver from a non-firearm to a firearm. Traditionally, gun parts incapable of receiving and propelling ammunition have not been considered firearms. This will change with the new rule. Also traditionally, it has been legal for any citizen to own two or more components of a functioning firearm and assemble them at home. This is the target of the new law. It has long been considered a natural and constitutional right for a citizen to manufacture a firearm at home, but illegal to give, trade, or sell that firearm. Defining lower receivers as firearms changes the legality of owning and exchanging non-functional gun parts.
2. It will change the definition of the terms "firearm" and "gunsmith." The new regulation will consider a potential firearm to be an actual firearm, and it will broaden the definition of a gunsmith to broaden the list of punishable offenses.
3. It provides changes to the legal definitions of additional terms including, "complete muffler or silencer", "complete weapon", "privately made firearm", and "readily". In short, "complete muffler or silencer" will refer to potentially complete mufflers or silencers. "Complete weapon" will now refer to a potentially complete weapon. "Privately made firearm" will be made to mean unregistered firearm. And finally, the term "readily" will be used to indicate items that are in reality only potentially "readily" capable of being made into a weapon.
4. Marking and record-keeping requirements for gun owners and gun sellers will change. The requirements for record retention will be extended.
5. The ability of the ATF to rule and act on its own in these matters will be enhanced.
These regulations were signed by Biden's Attorney General on the 11th of April, 2022. They were published in the Federal Register on the 26th of April, and the rule will become effective on the 24th of August, 2022.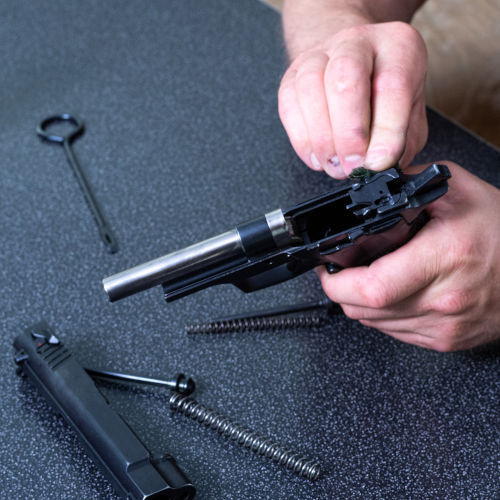 What It Could Mean for Online Gun Sales
Unfortunately, the potential consequences for responsible merchants like yourself will be even greater than the effects on the average citizen. You will have to shoulder a significantly greater burden when it comes to declaring, labeling, recording sales, tracking inventory, and keeping records.
You may be subjected to stricter FFL requirements to complete sales. You may be subjected to warrants and searches by the ATF under circumstances that may never have occurred to you to be prepared for.
The changes to these and other rules have already had an impact on legal gun owners in the United States. Just a few weeks ago, ATF agents in Delaware were sent to the home of a man who had recently purchased several firearms. Though he had done so perfectly legally, the agents insisted that the man show them the guns so that they could "verify" that he was indeed in possession of the guns.
The ATF had no warrant and no reasonable suspicion that the man had or would engage in criminal activity.
It should further be noted that the new regulation states that an 80% frame or receiver is the intended target of the legislation. However, the spirit of the regulation is such that potentially unregistered weapons, the private manufacture of weapons, and potential weapons will become subject to federal scrutiny.
For example, a 12 gauge flare gun that is properly constructed can receive a sub-caliber device that allows it to receive .410 or .45 Long Colt ammunition. The law up until now has been that the flare gun and the sub-caliber device can be legally owned by anyone and they do not become a firearm until the sub-caliber device is inserted into the flare launcher. Just as the new rules change the definition of upper and lower receivers, the ATF or federal agents may decide that flare guns and flare gun accessories also fit the definition of "potential" weapons or that they are actually "readily" configured as weapons.
In short, our advice is that you should be prepared for the language of the new regulation to be used to permit action against persons with items that could be said to be potential or ready weapons, and understand that these terms are dangerously vague.
Bear in mind that everything discussed in this section up to this point is not a matter of fact, but a commentary on potential problems that we believe you should be ready for. This is based on the history of firearms restrictions, the language used by politicians recently, and incidents that have taken place across the country in states and counties.

The Effect of the New ATF Law on "High Risk" Merchants
Finally, we can say with authority that many credit card processors' banks will almost certainly require an FFL license to sell certain products that they did not require before. There may also be an increase of firearm merchants being flagged as high risk as a result of these new regulations.
As you likely know, being marked as a high-risk merchant means you could face increased processing rates, delayed funding or even completely losing the ability to accept payments with your current processor. You may lose the support of your payment service provider in the case of fraud, chargebacks, disputes and policy changes. Even worse, these things may happen without warning, and you may be offered no recourse or even an explanation.
The Legacy payment processors are highly averse to political controversy and are known to cut off merchants who they believe are on the wrong side of a social or political issue. And the new ATF ruling 2022 certainly qualifies.
How Leap Payments Can Help With Reliable Gun Credit Card Processing Service
The good news is that, here at Leap Payments, our business model is designed to provide secure, reliable payment processing services to gun brokers and other potentially high-risk merchants. As long as you remain responsible and conduct business legally, you can qualify for a Leap Payments gun merchant account easily and quickly.
After you apply, we will let you know within 48 hours whether you have been accepted. Get in touch today to learn more about how Leap Payments can help protect your ability to do business!