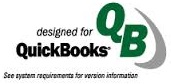 As a small business owner, the list of things that need your attention is endless. From ordering supplies, stocking the inventory when it arrives and arranging transportation matters, to hiring and dealing with employees and paying bills, time is a precious commodity.  What if there was an integrated payment solution to make keeping your books easier without costing you an arm and a leg?  Now there is such an option. A simple plug-in that works within QuickBooks POS can simplify your processes and save you time and money.
When you utilize point of sale payment devices, there's a great deal of time spent manually adjusting the ledger and making entries to account for those sales. By implementing the right software, the small business owner can utilize our plugin that connect directly to QuickBooks POS, and enjoy complete connectivity between your existing accounting and POS software.
One of the most refreshing advantages of these types of retail merchant services is that the business owner is not required to purchase additional hardware beyond the original POS devices. The plugin takes care of everything. If you use QuickBooks Merchant services, you're required to upgrade your software every 3 years or your payments are disabled.  With our QuickBooks POS plugin, no upgrades to software will ever be needed, and our plugin never expires.  So you can upgrade your software when you're ready, not when you're forced to upgrade.  This can save you thousands of dollars in upgrade fees.  This leaves the business owner or manager free to focus on other aspects of the business, such as increasing sales and servicing customers.