If you're in the firearms business or want to be, these days the best way to get into buying and selling firearms is to work with GunBroker®. Usually described as "the eBay for firearms," GunBroker is a place where you can find hundreds of thousands of listings from people all over the United States. You can find new and used guns of all shapes, sizes, and capabilities, and you can usually find a great deal on the type of gun you're looking for. Chances are if you just shop around you'll find a fantastic deal that you weren't expecting to find.
If the reasons to use GunBroker aren't immediately obvious, consider what eBay has done for many sellers. All you need for an eBay account is a garage full of antiques, novelties, or other items with even a niche buying demographic. Guns may be a niche sales category, but we would hardly call it a marginal one. Ebay has given many millions of people direct access to buying demographics that would normally be far out of reach. Well, GunBroker does the same thing. It doesn't matter whether you're a licensed, working gun shop owner or someone with a large collection that needs to be trimmed down a bit, GunBroker is the place for you.
The Benefits of Using GunBroker®; How to Get Paid
We've already mentioned the most important benefit. GunBroker gives you, the seller, direct access to people who want to buy what you're selling. If your customers live 3,000 miles away from you, you would normally never be able to sell them anything. GunBroker remedies that, just as eBay does. So, that all by itself is a tremendous value.
GunBroker is the internet's biggest online gun auction site fully dedicated to buying and selling firearms, gun parts, accessories, ammunition, and related gear and equipment. No other online auction site comes close. So, if you want the best access to buyers, no other option will cut it. The site has a consistent buying audience of 7 million potential buyers each week and more than 4 million registered users. According to GunBroker, 80% of their traffic is regular GunBroker shoppers. That means, when you sell on this platform, you can expect to get regular visits from dedicated buyers. GunBroker's user base is not made up of casual curiosity seekers. They are not weekend warriors or unsavory characters. They are people who know and appreciate firearms. They are hunters, farmers, sportsmen, and people looking for serious and viable self-defense technology.
GunBroker is partnered with the NSSF, the NRA, the Heritage Hunting Trust, and other reputable firearms interest and advocacy groups.

As a GunBroker firearms merchant:
Boost Your Revenue Stream
Access a Nationwide Customer Base
Maximize Your Profits
Grow Your In-Store Traffic
Never Pay Insertion Fees
Your Store is Open 24/7
In addition to these benefits your customers will appreciate:
GunBroker Instant Checkout
Advanced GunBroker Payments Options
Fast, Simplified GunBroker Checkout
Even if you have a physical store with decent sales numbers, working with GunBroker will still improve your profit margins. You'll no longer be held back by geographical limitations. You may also get visits from people outside your local area. This is frequently the case when people find a seller they like working with on GunBroker. Customers will often stop by when they are in the area just to say hi, and make a purchase in person. It's just one of the charming things about the GunBroker community.
One of the greatest features of the site is they do not charge insertion fees. That means, when you add an item to your online store, GunBroker does not charge you for the privilege of doing so. That is frankly unheard of in the world of online gun sales, making this site an opportunity you simply can't pass up.
In short, GunBroker makes it as easy as possible to make money and grow your firearms business online. Unfortunately, there are additional challenges to online firearms sales that even GunBroker cannot do away with. If you've been in the gun business for very long, you know what we're getting at — the problem of being marked as a high-risk merchant simply because you are a firearms seller.
GunBroker® Requires 'High-Risk' Merchant Accounts
If you want to make money on GunBroker, (and why wouldn't you), you will need GunBroker payment processing. That means you'll need a payment processing account. Unfortunately, the major credit card companies don't make this easy for a gun dealer like yourself. Either for political reasons, public relations reasons, or both, all of the major payment processors like to make it easy to terminate your merchant account for any reason whatsoever. To do this, all they need to do is mark you as a high-risk seller, and selling guns or gun parts is more than enough to get away with that.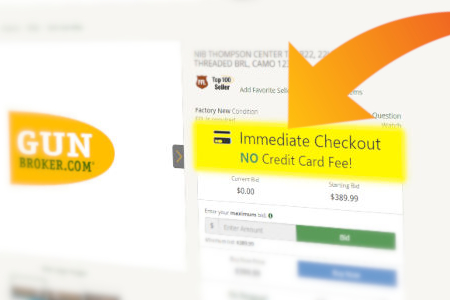 So, if you're wondering about GunBroker and how to get paid the answer is you really need to work with a payment processor that won't single you out just because you sell legal guns to law-abiding people. That's where Leap Payments comes in.
Best Payment Gateway for GunBroker®
Here at Leap Payments, our primary value proposition is that we treat you fairly when the major credit card payment processing companies won't. Our service is specifically tailored to cater to upstanding sellers just like you who want to provide quality products to quality people.
We will never red flag your GunBroker pay account for any arbitrary reason. If there is suspicious activity on your account, we will contact you and talk to you about solving the problem, rather than just canceling your account without fair warning. Once the legacy payment processors mark you as high-risk, they can legally deny you service at any time for any reason. And that is why we are in business, to treat you fairly when no one else will!
What's more, our team will offer you more GunBroker payment options than you would ever get with a legacy payment processor. We want to make it easy for you to sell on GunBroker. We believe you deserve a place on the "eBay for guns". Gunbroker has done the hard work of building an amazing platform, and Leap Payments makes sure you can sell there with no unexpected problems.
Get in touch with our team today for more information, and get your GunBroker seller account set up and ready to go! Our knowledgeable staff is ready to answer all of your questions.