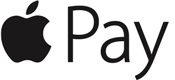 Apple has recently introduced its new payment system known as Apple Pay, with the launch of the latest iPhone 6 and iPhone 6 Plus smart phones. This new system uses Near-Field Communication (NFC) technology for point of sale, as well as online transactions, without having to pull out a physical payment card. Simply take a picture of your card with the phone's camera and it is uploaded to the already existing application known as Passbook. Previously, Passbook was used for gift cards, movie tickets and airline boarding passes, allowing you to scan your iPhone or iPod to redeem. This system is now integrated with your everyday cards so you can leave the wallet at home and have everything on one device.
Pay with ease and hassle free
After uploading as many new cards as you wish, Apple will then verify the account data with the issuers and it is ready to use without even needing to open the app. Just hold the Touch ID button to authenticate oneself and begin to use your new iPhone wallet at one of the reported 220,000 U.S. merchant locations that are able to accept contactless payments.
Merchants do not need to sign up for anything to accept contactless payments
To accept contactless payments as a merchant, you need to have the ability to already accept NFC on your terminal. Leap Payments' latest terminals support Apple Pay, please contact us to learn how you can accept Apple Pay, Google Wallet and Soft Card transactions with your credit card machine.