In the same way that no two businesses are exactly the same, no two credit card processing solutions will give you the same benefits. Depending on the type of business you run, you may find yourself relying on physical point-of-sale registers, mobile card readers, an e-commerce payment gateway, or all three at once.
You need to be able to accept credit card payments during each interaction with customers so you do not miss out on potential sales. Having a card reader available helps increase transaction speeds and improve customer satisfaction levels, which will go a long way toward helping you achieve your business goals. How do you decide which credit card reader will benefit your business the most?
Knowing where your customers are and where the bulk of your credit card transactions come from will help you determine the next steps to take when looking for a specific card reader. For example, having a mobile reader that attaches to your smartphone is critical for individuals and companies selling merchandise during fairs and expos. The following types of credit card processing solutions offer a variety of benefits and provide flexibility for small merchants and large-scale retailers alike.
Mobile Credit Card Machines Deliver On-the-Go Solutions
It is essential for small business owners and individuals selling goods and services on the go to be able to accept credit cards from their customers. With fewer people carrying cash, and even fewer willing or able to write a check, accepting a credit card can be the difference between closing a sale and missing out. A mobile credit card machine provides merchants with easy-to-use solutions in these situations.
Some professionals and businesses that benefit from mobile card readers include:
Hairdressers
Personal Trainers/Coaches
Food Trucks
Expo Merchandisers
Vendors at Live Events
According to CreditCards.com, an online survey released by Walker Sands Communications in  2015 found that 40 percent of consumers polled said they had used a mobile payment application in the past year, up from 8 percent a year earlier. While this statistic also incorporates e-commerce platforms through a company's mobile website, it shows that consumers across the board are clearly looking to complete transactions as quickly and conveniently as possible with their mobile device.
A mobile card reader simply connects to your smartphone or tablet via your headphone jack, and the interface can be launched as an app on your home screen. Using the app is easy and allows you to type in a transaction amount, swipe a credit card, obtain a signature, and email a receipt to the customer.
Many mobile solutions can also be integrated with QuickBooks or other software to help you keep track of your finances without needing to manually export and import data. The processing fees for using a reader will vary from one option to the next, but your merchant account provider will help you understand the fee structure as it affects your overall processing solution, so you know what to expect from each sale.
POS Systems Integrated with Terminals Enhance Brick-and-Mortar Operations
In a traditional retail stores or restaurants, your customers expect to be able to pay with their credit or debit card. While mobile card readers allow your staff members to roam around the store and complete transactions from anywhere, in a less mobile environment it is still necessary to have a credit card terminal integrated with a POS system. On their most basic level, credit card terminals attached to your Point-of-Sale system can help you complete transactions quickly and easily.
A credit card terminal connects to your existing POS and allows your customers to pay with their credit or debit cards for your products or services. When you process a transaction, you are able to swipe a card, insert an EMV chip-enabled card or tap a smartphone app (such as Apple Pay or Samsung Pay) as payment, and your POS system will help keep track of inventory and other logistics. Restaurant patrons are able to pay for their meals without a second thought, which creates a more welcoming environment and can lead to more food and drink orders.
You already know that accepting credit cards for payment will help increase sales, especially impulse purchases. The key is to find a card reader that works best with your existing setup and which communicates seamlessly with your credit card processor.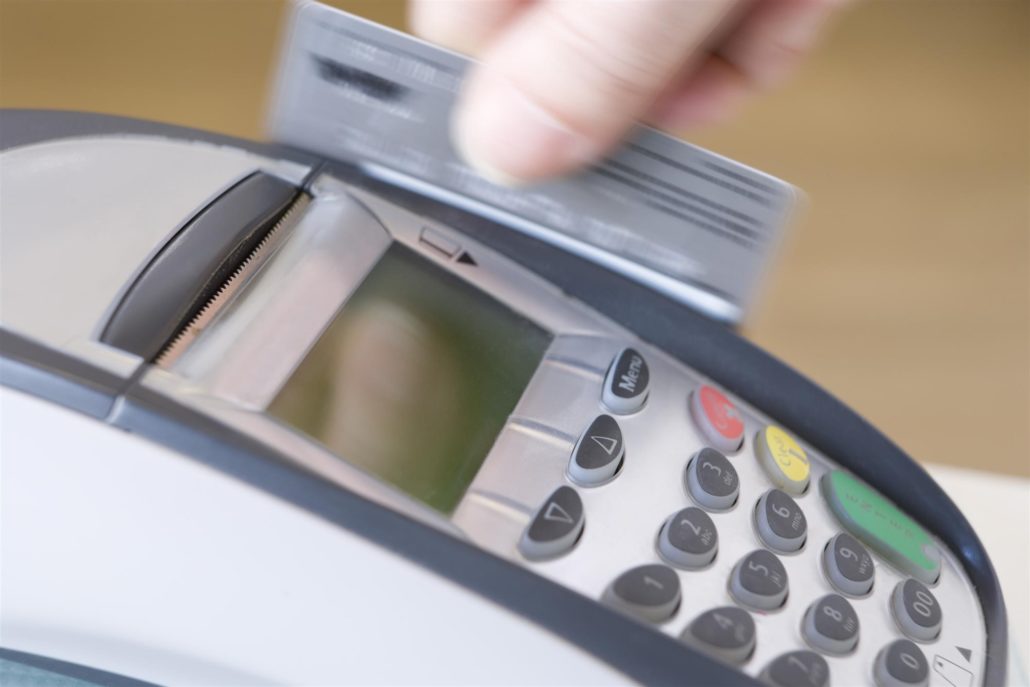 Benefits of using a terminal attached or integrated with a POS system when accepting credit cards include:
Payment flexibility for customers
Increased customer satisfaction
Faster payment methods for your sales
Setting up card readers at the checkout stands in your store or around your restaurant is a relatively inexpensive investment that will pay off in the long run. According to the U.S. Small Business Administration, you may pay up to 5 percent of what you earn to a merchant services account provider, which is why it is so important to work with a company that offers the lowest fees and the most dependable equipment for your business. As you grow your business and look to expand outside of the immediate area with online sales, developing an e-commerce solution is the next step.
Payment Gateways Unlock Your Online Store
If your business depends on online sales to stay open, you need to have the ability to accept online payments without incurring outrageous fees, plain and simple. An e-commerce payment gateway allows you to get an affordable solution for accepting credit cards online that is easy for your customers to use. In addition, a secure online shopping cart gives your customers peace of mind, knowing that their transaction information will be handled with care throughout the entire process.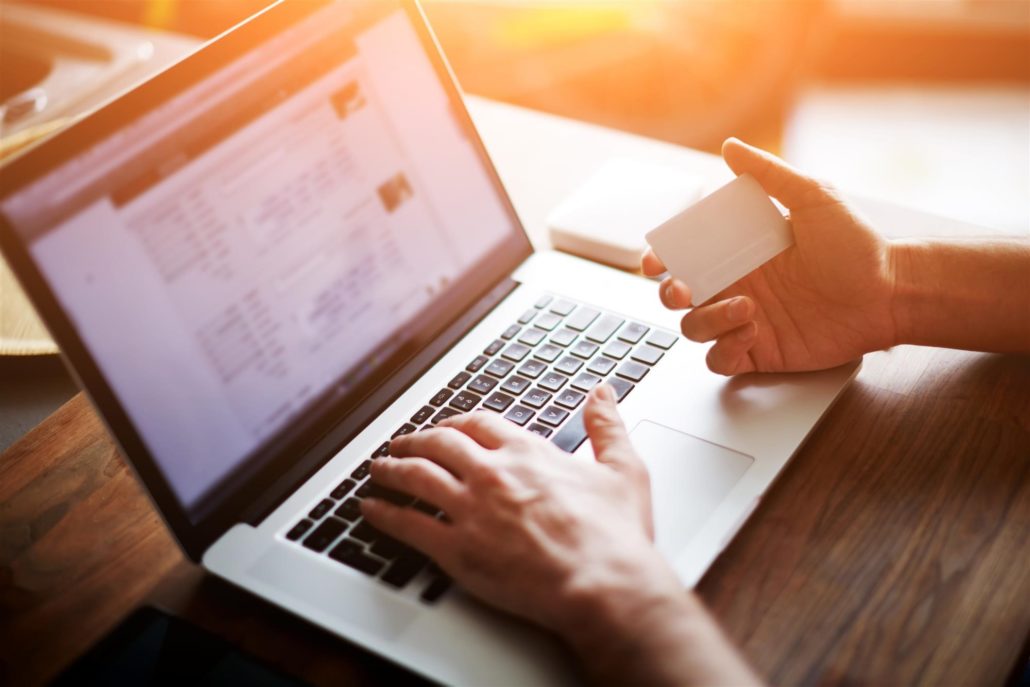 Whether you already have an existing payment gateway or are looking to install one for the first time, your merchant services provider can help you find the right option for your business. Secure payment gateways help improve overall efficiency by connecting directly with your merchant account online so all of the information you need about your sales and finances is all in one place.
Your credit card processing partner can integrate a new payment gateway with your existing shopping cart or help you choose the best shopping cart and payment gateway combo, if you are starting from scratch; in turn your payment gateway unlocks your online store.
A couple of important benefits of properly setting up a shopping cart and a secure payment gateway is that you can get funded faster and customers will feel more secure knowing that their personal information is safe. Rather than rushing through the process of getting your online store up and running, take the time to research available options for accepting credit cards so you know exactly what your fee responsibility is and can maximize your profits.
Virtual Terminals Strengthen B2B Transactions
On a related note, having a virtual terminal for B2B transactions allows your business to conveniently process transactions individually or as a batch. Whereas a payment gateway is a customer-facing solution that allows someone to choose an item from your online store and submit their credit card data for payment, a virtual terminal is used only by a merchant online to input credit card sales manually.
A virtual terminal allows you to key-in credit card numbers from clients or other organizations you sell products or services to so that you can get paid. This is particularly useful when taking credit card information over the phone, on invoices through the mail, or when taking part in off-site sales events like tradeshows. These solutions also integrate with your online merchant services account so that transactions that are processed result in money coming into your business quickly and securely.
By including purchase order links in emails with your clients you also make the transaction process much easier for buyers. Once a purchase order is created it is essential for your business to be able to quickly and conveniently receive payment. A purchase order link set up through your virtual terminal allows a client to click through to an invoice and pay directly with their credit card without having those payment details exposed. The information is secure and the buyer has more control.
Once you know the type of credit card processing solution that is right for your business, you will need to decide on the exact piece of equipment you need. Doing so gives you a solution that enhances transaction security, increases customer satisfaction, and eliminates hassle, all while ensuring your business gets paid promptly without being on the hook for sky-high fees.
Mobile card readers, POS systems, e-commerce payment gateways and virtual terminals give your customers confidence and trust in the fact that they are working with a secure site when paying with a credit card.
Sources: