Glassware Merchant Accounts
Boost Business with a Glassware Merchant Account
The need and desire for marijuana and related glassware products (Like bongs, pipes, bubblers, etc.) have shot through the roof with all the recent changes in laws and regulations in many states. The glassware and bong business is currently booming as tons of individuals are trying to get started in the industry. Having the ability to accept credit and debit card transactions is a great way to provide a convenient service to your clientele. This will cut back on the amount of customers you have to turn away which ultimately loses you the sale. Leap Payments gives you all the tools for success to increase revenue and boost your businesses growth with an industry leading glassware merchant account.
Getting Approved in a High-Risk Marijuana Related Industry
Banks, lenders and financial institutions have labeled marijuana and marijuana paraphernalia companies as high risk for a variety of reasons. These financial institutions typically have no clue how the glassware industry works. This lack of knowledge leads to uncertainty and results in high chance of denied applications for credit card processing solutions. Additionally, there is a higher risk of chargeback claims because of how products are normally bought and paid for. With federal and state laws/regulations constantly changing, there is a great deal of both potential gain and added complications for the future of the industry. Don't get left behind or wait for this pivotal moment to pass you by. Leap Payments offers custom glassware and bong merchant accounts that are tailored towards the industry and promotes convenience for your customers and growth potential for your business.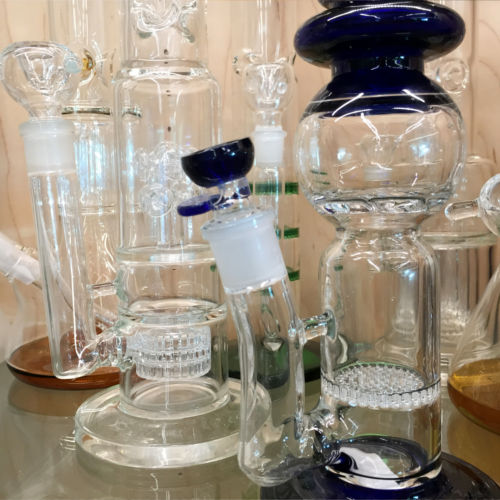 Why Use Leap Payments for Your Glassware Processing
Get the very best in credit card processing in the cannabis related industry when you partner with Leap Payments. We have experience working with high-risk paraphernalia merchants and offer flexible and financially secure accounts so you can focus on creating the best experience for your clients. We believe in keeping costs low by offer the lowest possible rates, and equip your business with a custom processing solution. Here are just some of the reasons companies open a glassware and bong merchant account with Leap Payments:
Get All Your Processing Needs from One Simple and Easy Source
Full Banking & Processing Functionality That Complies with Regulatory Standards
Hand-Crafted Solutions for Your Unique Business Needs
We Fight on Your Side to Get You Quickly Accepted and Processing
Gain Access to The Best Selection of Glassware & Smokeshop POS Systems and Card Readers
Leap Payments is here to help you find online credit card processing even if others have told you that your business is too high-risk. Understanding how the marijuana and related industry works, we can work with you to develop a unique solution that meets your specific needs.