Furniture Retailer Merchant Accounts
Accept Credit Cards with a Furniture Merchant Account
Furniture retailers have been moving online in increasing numbers over the last several years. This change in the industry has brought a big increase to profits, but it has also created change in the way furniture businesses must get their merchant accounts. Buying furniture online has become more popular thanks to payment processing and shipping technique advances. The average ticket or transaction is very high in furniture retail, and this can cause issues for businesses looking for a merchant account. Leap Payments offers the perfect furniture retail merchant accounts that are a great fit as credit card processing options for online, in-store pick up services, or specialized direct small shipping stores.
Roadblocks Facing the Furniture Retail Industry
Despite the increase in popularity and effectiveness of online sales, banks tend to be stricter about opening merchant accounts for businesses that operate online than for traditional retail locations. Financial institutions have labeled online furniture businesses as high risk for several reasons:
High Chargeback Rates
Large Tickets and Transactions
High Order Volume
Buyer's Remorse
Chargebacks and disputes arise from products that might get damaged during the shipping process. Many traditional credit card processing companies can have issues with the large volume and ticket sizes, even for retail location sellers. Regardless of the tendency of institutions to shy away from this online sector, Leap Payments can get your account started quick and easy.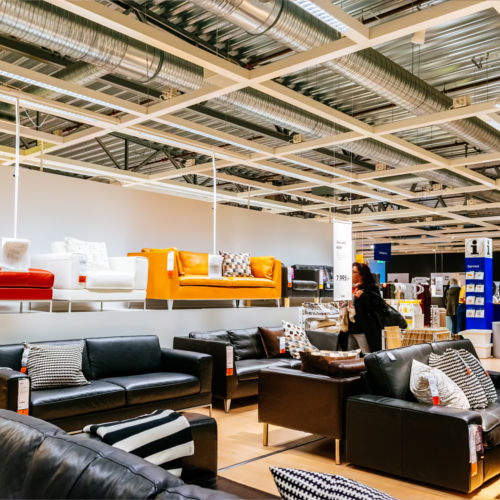 Leap Payments Approves Furniture Merchant Accounts
Signing up for a furniture retail merchant account at Leap Payments is simple. You can rest assured that your rates will never increase for the entire lifetime of your partnership at Leap Payments with our Lifetime Rate Lock guarantee. Get customized credit card processing solutions specifically to meet your business needs. Help reduce the risk of chargebacks to your company with safe and secure gateways. Our 100% U.S. based customer support team is ready to help you, one on one, whenever you need us. Get assistance with account questions, advice on credit card readers and to set up your online credit card processing account. Learn more by contacting a Leap Payments furniture retail representative today.