Credit Card Machine Ratings
What's important when choosing a credit card machine?
There are hundreds of different credit card machines out there as competitive products are available from various suppliers and older models continue to be supported by credit card processors. If you've been glancing through credit card terminal reviews on the Internet, you probably realize already that not all machines are created equal and most importantly not all machines comply with today's PCI security standards. Now an entire new line of machines are available with advanced EMV smart card and NFC tap and go functionality to process the latest cards.
We've worked with thousands of terminals and clients know firsthand which machines work best. Not all machines are the same, but we know that our clients typically don't have the time to read a lot of merchants' credit card processing machine reviews and compare Hypercom, Verifone, Ingenico, First Data, or any of the other current or past manufacturers such as Exadigm, Nurit, Lipman, LinkPoint, RDM, Magtek, or Pax to determine which machine is the best for you. So, we've used real-world metrics like reliability and speed because no one really cares how much RAM is included—what you really care about is whether the machine actually works and processes payments quickly and reliably.
Do you want to see the machines in action? Please click on the videos below:
Ingenico iCT250 The Ingenico iCT250, iCT220 and iWL250 all function identically.
Verifone Vx520
Today all machines come with built-in thermal printers, keypads that can be used as PIN Pads, and support all transaction types. So we've identified the key differences that you need to know when choosing a credit card terminal. All our machines support credit, debit, gift cards, electronic checks, and all transactions types such as sale, void, refund, tips, etc.
Our Top Pick: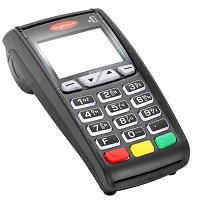 Ingenico iCT250
it simply does everything better than the rest.
Complete Ratings (as of 6/2015):


Here are the factors that we used to rate credit card terminals:
Speed – The real difference in speed is between Dial-Up and Internet Connected (IP) terminals. In our experience the time required to receive a transaction approval on a dial-up transaction is 5-8 seconds, whereas on an IP terminal it's 1-2 seconds. This makes a huge difference at a high-volume location.
Screen – There are 2 basic different screen types, black LCD screens and back-lit bright color LCD screens. The difference is significant and immediately noticeable. We prefer the back-lit screens with color as they are simply easier to see and the text is clearer with low or even bright lighting.
Options – Card Type Support – With new EMV cards and Tap and Go NFC cards as well as Apple Pay now available, your business will need to be able to accept these new cards. Only the latest machines can process these new cards that no longer use a magnetic stripe and instead use imbedded chips that need to be read by your machine.
Reliability – You want your credit card machine to work today, tomorrow, and even after the warranty expires. We find that the current Ingenico terminals are simply more reliable than the others. Verifone terminals are plagued with an internal battery issue, so over time the machine will display "Tamper" or "Bad RTC Chip" due to battery failure, and the machine must be serviced by an authorized dealer to fix this issue.
Price – While cost is always important, the competitive nature of terminal manufacturing has driven the costs down so that similar models from different manufacturers are almost always priced within a few dollars of each other. A dial-up terminal with a bright screen from Ingenico costs basically the same as a comparable terminal from Verifone or First Data, so other factors besides price become more important. It's important to find an honest reseller. We've seen processors charge $600 or significantly more for a $299 terminal. So working with an honest credit card processor your costs will be minimized and selecting the right device can spell fewer headaches for you in the future. From time to time we also offer specials, so please ask an account representative for details.
As you can see from our table, our current favorite terminal (as of 12/2014) is the Ingenico iCT250, not because anyone pays us to say this, but simply because this machine costs the same and offers everything that you need coupled with the highest reliability as experienced by our real merchants.
Note on First Data terminals: We did not include the FD-50, FD-100 and FD-200 terminals because they can only be used with one credit card processor – First Data. All terminals reviewed here will work with all processors.