Mobile Phone Payment Processing
Get paid using your cell phone!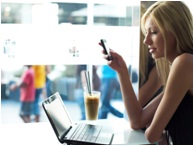 Now you can use your iPhone, Android, or Blackberry to process credit card transactions wherever you are, whenever you need to accept payments.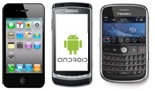 Two ways to process, unlimited flexibility!
You can use our virtual merchant online terminal and using your phone's web browser process your transactions on the go.
Use a dedicated application designed for your iPhone, Android, or Blackberry to simplify the processing. With the phone application you can also use a swiper customized for your phone, so you can achieve card present rates and reduce your fees.
Cell phone payment solutions offered by Leap Payments:
Highly mobile to fit your business needs
Secure and PCI Compliant
Customizable Receipts – emailed to client directly
Optional bluetooth or plug-in card readers and receipt printers
Scalable to fit your business needs today and exceed your expectations as your business grows
Our mobile solutions support your business the way you do business at the client's location, events, trade shows, or anywhere you need to get paid. You can secure a job by taking a deposit in the field instead of calling into the home office with just your cell phone.
Call 800-993-6300 to talk to an industry professional about the best method for you to process credit cards when you're in you home office or out in the field.
Don't pay inflated rates to use your phone, our processing rates for mobile solutions are the same as standard merchant accounts so you know you always pay the lowest rates. If you have a retail account, you can add an unlimited number of mobile devices to your same account, so no need to maintain separate accounts for your sales… one account, unlimited flexibility.
For higher volume users we recommend a dedicated wireless terminal, because entering transactions on your phone is not as quick as using a device that was purpose built to be a mobile credit card machine. Leap Payments will help you determine the right solution for your business.